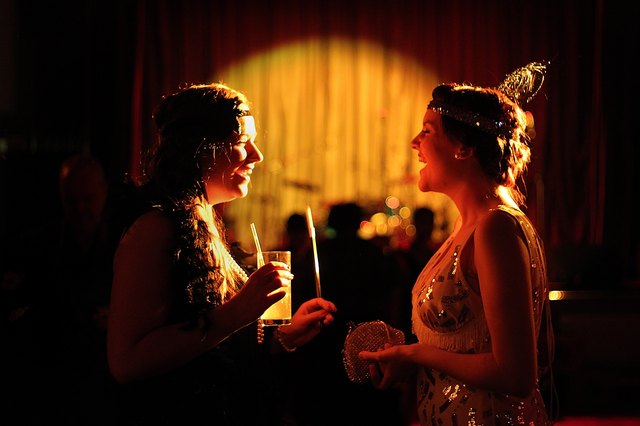 Peter Macdiarmid/Getty Images News/Getty Images
Take a cue from films like "Cotton Club," "The Untouchables," and "Bugsy Malone" and go back in time to the Roaring '20s, the heyday of gangsters and gun molls who roamed speakeasies against a blaring jazz soundtrack. Capture the underworld of infamous hoodlums and flashy showgirls by getting all dolled up for your gangster-themed bash in Jazz Age-inspired attire and accessories and you're sure to be the bee's knees.
Gangster Suit
Don't be afraid to join the boys club by wearing a 1920s gangster-style suit. Think a black-with-white-pinstripe suit coat, a black shirt, suspenders and a long white tie. Add a feminine spin with a skirt and high heels or keep it androgynous with matching pinstripe pants and classic black-and-white spats. Top it all off with a black fedora and tote a plastic machine gun. Blammo!
Flapper Costume
Wear a classic flapper dress with rows of flirty tassels. Whether it's a thigh-grazing mini or a more conservative knee-length version, your Charleston will get a boost from an ample dose of flying fringe. Amp up your outfit by finding flapper dresses with sequins or edged with beaded or metallic fringes. If fringe isn't your thing, sport other 1920s staples, such as a drop-waist shift dress in solids or pretty floral prints. Opt for a simple straight skirt or rows of feminine ruffles.
Speakeasy Girls
Channel your inner showgirl or sultry chanteuse with slinky, floor-length bias-cut dresses. The more glamorous and embellished the better, so go all out in a head-to-toe sequin gown or try a more exotic '20s style with an Asian-inspired cheongsam dress. Make your exit in a long, wide-collared, fur or faux-fur coat. Alternately, work a sassy cigarette-girl number with a cropped jacket, short pleated skirt and a tray full of candy cigarettes strapped around your neck.
Accessories
Cradle your cocktail or elegantly hold your extra-long cigarette filter in glamorous elbow-length gloves. Don a sleek bobbed wig or wear finger-waves topped with a cute cloche hat, a beret, an elegant turban or a headband with feather or sequin embellishment. Add Art Deco-inspired jewelry -- such as dangling marcasite earrings and bracelets -- or go the more glamorous route with wide rhinestone chokers and necklaces. Opt for a single string of extra-long beads to twirl as you dance or pile them on for a more dramatic look. Fishnet stockings and mid-heel Mary Jane shoes will look period appropriate with any dress. Drape a long feather boa around your shoulders and you're ready to party.