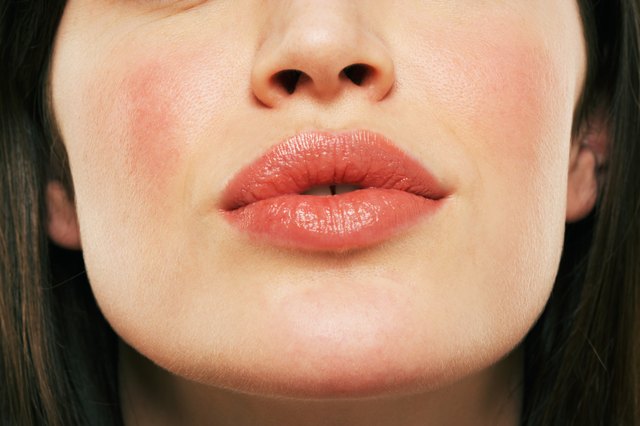 Marili Forastieri/Photodisc/Getty Images
When your skin's moisture levels are out of whack, you're likely to end up with an accumulation of dry skin cells. Dry skin can form when you're not getting enough hydration, and the sensitive areas around the mouth are especially vulnerable. Address persistent dryness with your dermatologist if changes in lifestyle fail to clear the problem.
Lack of Humidity
There's a reason why dry skin is commonplace during the winter -- low or no humidity and cold winds can quickly deplete skin's moisture levels. Your face is the least likely area to be covered in the winter, and dryness around the mouth can happen quickly without protection from the cold. When the temperature drops, make it a habit to apply lip balm liberally to your lips, as well as the areas around your mouth. Cover your face with a scarf when heading outdoors, and avoid licking your lips.
Skin Care Prodcuts Gone Wrong
Another common cause of dry skin is the misuse or overuse of skincare products. This is especially the case if you use any products with alcohol or acids in them. You can also have a bad reaction to a product if you have sensitive skin. The resulting dry skin patches are sometimes called contact eczema. Stop using the product immediately and apply hydro-cortisone cream to the affected areas. Test any new products on a small area of your skin before using them on your face.