Have you ever had a dress so perfect that each wearing felt like a new, luxurious experience? If you have, then it's probably the feel of the fabric you remember most. Besides fit and style, fabric is one of the elements that determines whether a dress is worn repeatedly or just hangs in a dark corner, waiting for its Goodwill debut. From natural fibers to synthetics, there's such a wide range of fabric types that choosing from them can be dizzying. But being armed with a bit of knowledge about fabric properties and care instructions gives you a good shot at finding more perfect dresses when it's time to replace those sad unwearables.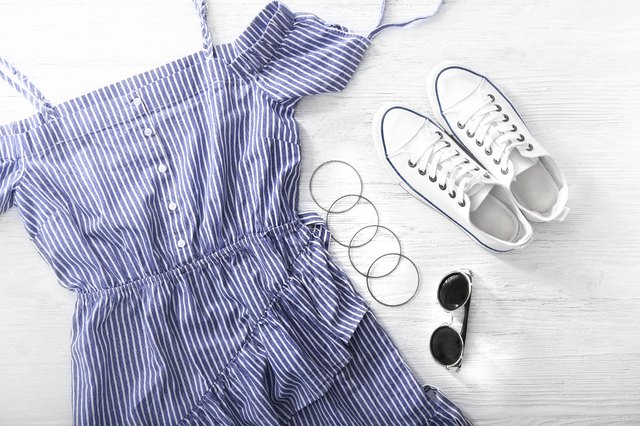 How Fabric is Categorized
Clothing makers categorize fabric in several different ways. Content – what the fabric is made from – is one way. Plant-based fabrics like cotton and linen are made from natural fibers; animal byproducts like silk and wool are also considered natural. Then there are a range of synthetic fibers that are produced from chemical and other manufacturing processes. These include polyester, rayon, acetate and acrylic. Natural and synthetic fabrics have different properties and are suited for different types of garments. Besides content, fabrics may be categorized by how the fibers are combined, such as woven or knitted, and whether the fabric is a solid color or a print.
Go Natural: Cotton and Linen
Both cotton and linen are natural fibers that originate with plants. Cotton comes from the seedpods of cotton plants and is traditionally woven into fabric in a variety of weights and thicknesses, from lightweight voile and chiffon to medium weight shirting to heavier denim and velveteen. Cotton is one of the most popular fabrics for summer dresses because it's comfortable to wear and easy to take care of, though it may be too casual for many offices. It tends to wrinkle, especially after washing, unless blended with a synthetic fiber like polyester. Linen, which originates with the stem of the flax plant, is one of the oldest known fabrics. Woven linen often has a more lustrous surface than cotton, but is even more prone to wrinkling. Dresses made from linen tend to have a rumpled appearance that many people associate with casual summer living.
Exude Elegance: Silk
Silk is woven or knitted from a natural filament found in the cocoon of silkworms. This luxurious fabric is synonymous with style and elegance. Because it's lightweight and has a beautiful drape, it's a favorite fabric for work dresses, cocktail dresses and evening gowns. Silk has many different looks depending on its treatment and finish. Silk satin is somewhat stiff and has a highly polished surface, while silk chiffon is extremely lightweight and may be nearly transparent. Silk may be washed and ironed by hand, but many prefer to have silk garments professionally dry cleaned.
Wrap Up: Wool and Cashmere
Heavyweight wool is used for blankets, sweaters and coats, but only lightweight versions are appropriate for dresses. Made from yarn spun from the coats of sheep, wool is a natural fiber known for its warmth-bestowing properties. In fact, wool is so warm that people living in warmer climates typically have no need for wool garments. Cashmere, a luxury yarn, is made from the coats of a specific type of goat. A dress made from wool or cashmere may be either woven or knitted. Both fibers are subject to shrinkage when washed, so most people choose dry cleaning.
Be Practical: Polyester
Although dresses made from natural fibers are often the most stylish, polyester is a popular fabric choice due to its practicality and low cost. It originates with a synthetic fiber created through a chemical process. Polyester is available in an almost endless variety of weights, finishes, prints and colors. Polyester dresses are usually lightweight, machine washable and wrinkle resistant. Many of today's form-fitting dresses are made from polyester knit, but you will also find dresses made from woven polyester. The quality of different polyester fabrics varies widely, so shop for higher-quality polyester fabric that will hold up through repeated washings without losing shape.