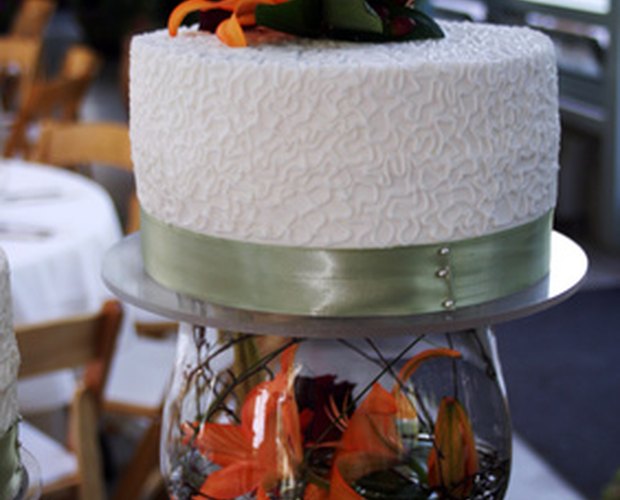 wedding cake on a bowl of flowers. image by Linda Mattson from Fotolia.com
Fresh flowers are often used to garnish cakes. Flowers are an integral part of a couple's wedding day, and when placed on a cake, they can tie into the theme of the day. Cakes adorned with flower buds and petals bring a fresh vision to spring and summer birthdays. Flowers also provide a gourmet, customized element to any cake. There are a few tips to keep in mind when putting fresh flowers on a cake.
Choose
Talk with a local florist, particularly the one from whom you are buying your flowers. Ask whether or not your flower of choice is edible. Although many flowers can be used, some contain toxic properties that could make you sick. Research each type of flower, foliage and leaves that you want to place on the cake to ensure that it is edible. Popular edible flowers include roses, lavender, sunflowers, pansies and oregano. Ask your florist or flower distributor about the history of the flowers. Make sure the flowers are grown organically, without pesticides or toxins. Few things can ruin a wedding more than a hall full of sickened guests. Don't use flowers off the side of the road or from an unfamiliar field. Only use wild or personally-grown flowers if you know the operations and standards of the area around it.
Prepare
Snip flower, leaving petals, leaves and buds on the stem until right before you decorate the cake. Store flowers in a sanitized vase filled with clean water. Place more delicate flowers in a shallow bowl with a layer of water. Keep the foliage in a cool environment. When you're ready to decorate the cake, a maximum of a few hours before presentation, wash the flowers in a gentle, cool stream of water. Alternatively, fill a bowl with cool water and swish the flowers, leaves or petals around in the water. Place a layer of paper or tea towels on the counter. Set the foliage onto the towels and allow to dry completely.
Decorate
If you are creating a spray to waterfall down the side of cake, tie together the flowers with a nontoxic string or tape. Slide leaves or additional foliage around the string to disguise it. Trim stems from individual buds and tuck them into the corners of the cake, in between tiers. Pluck petals from a bud, such as a rose, and sprinkle them on top of, or around the cake. For a luxurious effect, lay a single bud or handful of petals beside each piece of cake as it is distributed.