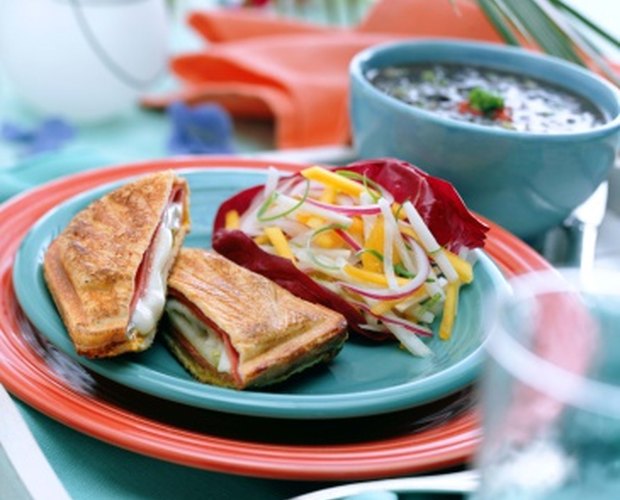 Jupiterimages/Comstock/Getty Images
Charles V. Champion Sr. invented the sandwich maker in the 1920s. He called his invention the Toastwich. It was the first appliance invented that toasted a sandwich and warmed the ingredients at the same time. However, the sandwich maker did not become a popular home appliance until the 1980s when informercials demonstrated a variety of recipes cooked in sandwich makers.
Sandwich Melts
Use your favorite sandwich recipe in a sandwich maker to create a warm sandwich or melt. Use the sandwich maker to make a basic grilled cheese sandwich; add ham, chicken or other ingredients for variety. A sandwich maker is an easy way of making classic deli sandwiches like a patty melt or Reuben.
Other Snack Foods
The informercials for sandwich makers highlighted some of the other foods that sandwich maker chefs could make. Pizza crust or canned biscuits will bake in a sandwich maker. Add pizza toppings for mini pizzas or calzones. Chefs can substitute other ingredients to create interesting flavor combinations. Mix cornbread batter and add a small piece of hot dog for quick and easy corn dogs.
Desserts
Simple baking mixes, such as muffin mixes, can be cooked in a sandwich maker. Rivel recommends making apple turnovers in its sandwich maker. The recipe it provides uses white bread, apple pie filling and additional spices added to the filling to help it taste more like fresh baked apple turnovers.
Breakfast
There are many recipes available for breakfast foods cooked in the sandwich maker. Cook eggs in the sandwich maker; mix in cheese, meats or other toppings to make an omelet. Bake pancake or waffle mix in the sandwich maker and add sausage links to make pigs in a blanket. A sandwich melt using bread or even tortillas with your favorite breakfast foods is another option for breakfast.