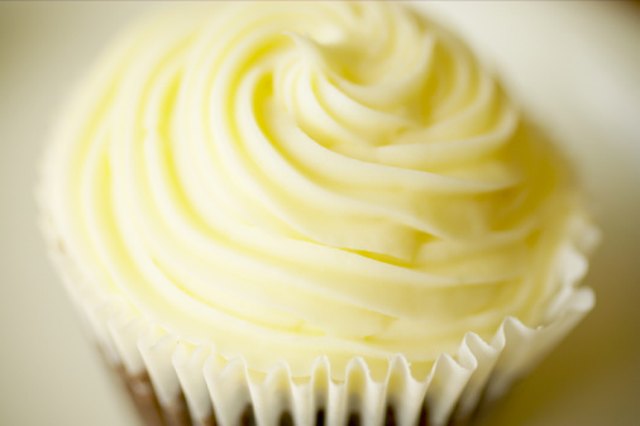 Jupiterimages/Photos.com/Getty Images
Canned frosting can do a lot more than just top cupcakes or cakes. With so many different flavors on the market, a wide variety of desserts can be easily made using canned frosting. Experiment with various flavor combinations in any of these recipes. Think about picking up an extra can or two next time you're at the grocery store.
Cake Pops
Just like a Popsicle but made with cake, cake pops are a popular easy-to-eat treat. Make them for the next party, shower or a child's class treat. Baking cake pops from scratch is more time-consuming, so for a quicker dessert, use a box of cake mix in the flavor of your choice. In a 9-by-13-inch pan, bake the cake as directed on the box. Let cool completely. Using a fork or your hands, crumble the cake into a large mixing bowl, breaking up any large chunks into a fine texture. Use ¾ of a 16 oz. can of frosting and mix with wax paper. Cover with plastic wrap and cool in the refrigerator for a few hours or in the freezer for about 15 minutes. The balls should be firm but not frozen. Insert a lollipop stick, available at craft stores, into each ball. In a microwave-safe bowl, melt 2 lbs. (32 oz.) of candy coating in the microwave for 30 second intervals, stirring after each time. Dip each ball into the melted candy coating, spinning the stick to coat the ball completely and get rid of excess coating. Place on baking sheets covered with wax paper and let dry completely.
Frosting Fudge
Create easy, but flavorful, fudge using canned frosting. Try vanilla, chocolate or mint icing mixed with the candy or nut of your choice. Line an 8-by-8-inch pan (or similar size) with foil. Grease the foil with butter or cooking oil. Melt two cups chocolate chips and 1 tsp. of butter in the microwave on medium heat, stirring every 30 seconds. Stir in one can of frosting and add candy or nut. Chop large candy into smaller pieces. Spread into pan and refrigerate for one to two hours. Cut into squares or use cookie cutters to make different shapes.
Chocolate Eclair Dessert
This no-bake pudding desert makes a quick and easy recipe that uses canned frosting. Line the bottom of a 9-by-13-inch baking pan with a single layer of graham crackers. In a large bowl, combine two (3 oz.) packages of vanilla pudding mix and three cups of milk. Stir in one (8 oz.) container of refrigerated whipped topping. Spread half of the mixture over the layer of graham crackers. Top with another layer of graham crackers, followed by more pudding mixture. Add a final layer of graham crackers and spread one can of chocolate frosting over the top. Refrigerate until ready to serve.
Frosting "Truffles"
Frosting "truffles" make an indulgent, but inexpensive, treat. In a microwave-safe dish, melt 12 oz. of melt-able chocolate chips such as chocolate, vanilla or butterscotch in the microwave for 30 seconds at a time, stirring in between. Stir in one 16 oz can of frosting and 1 to 2 tbsp. of liqueur or 1 tsp. of vanilla, orange or other flavor extract. Allow the mixture to cool until it is slightly thick. Pour mixture in a shallow dish or pie plate. Using a melon baller or spoon, scoop the mixture off the plate and form 1-inch balls. Shape with hands if necessary. Spread shredded coconut, nuts, cocoa powder or powdered sugar on a plate and roll balls to coat. Refrigerate until ready to serve.