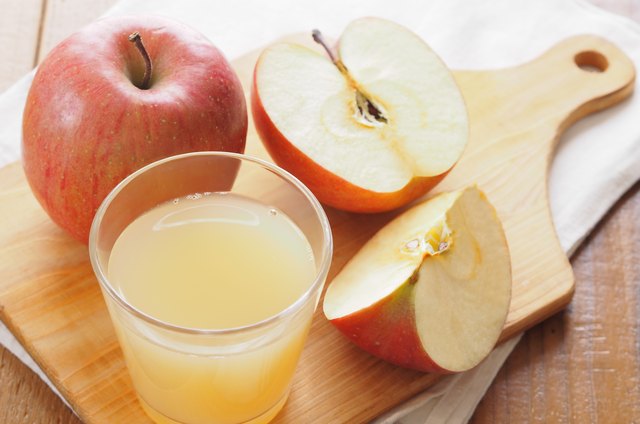 Fresh apple juice is a delicious sweet drink that can easily be made at home. The best apples for fresh juice are ones that are ripe and in season. A combination of a variety of apples can provide a broader flavor profile to the juice. Apple juice also has a sweet, though not overpowering flavor, that makes it a great base for mixed fruit and vegetable drinks. All apple varieties can be used for juicing, but there are a number of varieties that produce exceptional juice. The best apple juice often comes from a blend of sharp and sweet apples. To make a sweet juice without adding any additional sugar, use
McIntosh
or
Red Delicious
apples. They are both very sweet and typically very juicy.
Gala, Fuji
and
Rome
apples are also great for making a sweet apple juice, as well as the
Honeycrisp
and
Pink Lady
. By using a combination of the above-mentioned apples, you can create a full-bodied, naturally sweet apple juice. The Fuji and Gala have more flavor when juiced, while the others offer a more subtle taste. While all apples have a unique flavor, the
Calville Blanc
, the
Queen Cox
and the
Spitzenburg
offer an exceptional tasting juice. The Calville Blanc is a French variety with a spicy, tangy flavor. Queen Cox apples make a fresh, sweet juice. The Spitzenburg is a classic-flavored American heirloom, said to be a favorite of Thomas Jefferson. All three offer exceptional flavor quality.
Granny Smith
apples are great for making a sweet, yet tart juice. The
Braeburn
offers a crisp, woody flavored juice, though it can be a bit bland in comparison to other varieties. The
Jonathan
apple also provides a tart flavor, though it can be a bit astringent for some tastes. A fully ripe apple will yield more juice than one that is not. A ripe apple is firm and crisp. Generally, the
Honeycrisp
is a very juicy apple variety. The
Stayman
is a juicy apple with a tart wine-like flavor. The
Empire
apple is aromatic and crisp with a juicy flesh as well. Every variety of apple will be at its best, juiciest point when ripe.