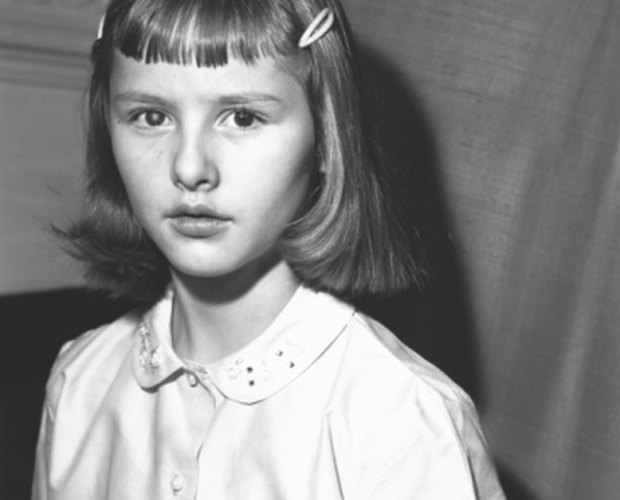 George Marks/Retrofile/Getty Images
A variety of hairstyles were worn by children in the 1950s, including two popular terms we still use today. While teen girls almost always wore their hair curly, whether or not it was natural, younger girls also wore their hair curly or straight with a variety of accessories.
Ponytails and Pigtails
Young girls often wore their hair in pigtails; a ponytail on each side of the head. These pigtails might be lower near the shoulders, or higher near the ears. Bangs were kept long and tied back in the pigtails or pinned back away from the face. Ponytails with the bangs pinned back were also a common child hairstyle for girls. More adventurous girls wore high ponytails with bangs cut short.
Pigtail Braids
Pigtail braids became popular in the 1950s for young girls as an alternative to the traditional pigtails. Pigtail braids look the same as pigtails, only the pigtails are braided once the hair is put up in the hair ties. The entire pigtail was either braided to the end and tied with a rubber band, or a few inches of hair was left after the braid and tied it with a ribbon.
The Pixie Cut
Many young girls kept their hair cut short, into what was later referred to as a pixie cut. This hairstyle kept their hair cut above the shoulders and easy to manage. Girls who did not have naturally curly hair curled their pixie cuts with pin rollers.
Accessories for Girls
Girls accessorized their hairstyles in the 1950s. Ponytails, pigtails and braids were often worn with a ribbon to cover the rubber band that held the ponytails or pigtails. If bangs were not long enough to fit into the ponytails or pigtails, they were tied back with barrettes. Girls who wore pixie cuts or other short hairstyles fastened their bangs back with barrettes as well.
Boys Hairstyles
Boys hairstyles were rather simple in the 1950s. They were most often kept very short, with short bangs that were slicked back or to the side. The "bowl cut" was introduced in this era, where a bowl was literally placed over the boy's head and the hair was cut around it. As boys got older, they favored a cropped cut with hair short on the sides, and long in front to part to the side or down the middle.