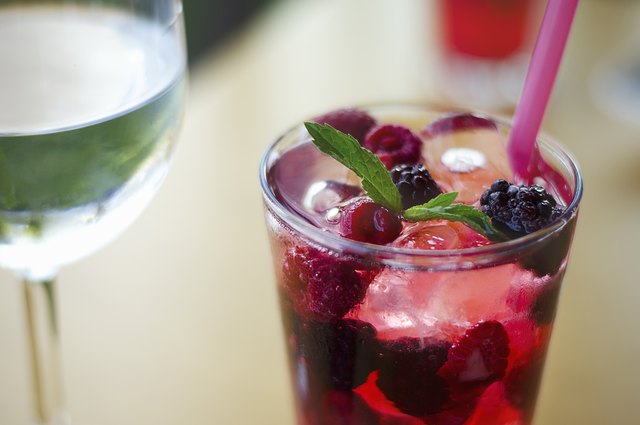 Mint Images/Mint Images RF/GettyImages
With its lovely ruby color and intense raspberry flavor, Chambord makes an impression beyond the sum of its ingredients, cognac, vanilla and either red or black raspberries. You need a substitute that is equally memorable for this French liqueur in your cocktail, pork sauce, fruit salad or ice cream topping. Go for both flavor and color in either alcoholic or nonalcoholic alternatives.
Choose Fruity Liqueurs
Liqueurs come in about any fruit flavor you can imagine. Those that are close to Chambord's raspberry taste include blackberry, such as Kroatzbeere or Marie Brizard and strawberry, called creme de fraise. But any other fruit-flavored liqueur works as a one-for-one substitute too, just with different tastes. Choose from banana, blueberry, orange, cherry, cranberry, black currant, guava, kumquat or pear to name a few of the many options. These strong-tasting alternatives will allow you to savor every last bite or sip of your food – a healthy way to enjoy your meals.
Opt for Fruited Syrups
Raspberry fruit syrup is a close match to Chambord, with or without the alcohol, but with lots more sugar included. As with liqueurs, syrups come in a wide array of intense fruit flavors and varying levels of sweetness. If you can't find raspberry, substitute another syrup made from berries, oranges, strawberries or cherries. Some syrups also come in sugar-free varieties sweetened with an artificial sugar such as Stevia.
Use Flavored Extracts and Oils
Concentrated extracts are made by dissolving flavored oil in alcohol or by cooking liquids down until they're extremely thick. Oils are more intense than extracts, so use only a few drops to substitute for Chambord in cocktails or cooking, and use 1/8 to 1/4 teaspoon of the extracts. Look for raspberry-flavored extracts or oil or go with any other similar fruit flavors.
Go Bold With Color
To wow your friends and family with a colorful substitute for garnet-colored Chambord, try other liqueurs that have vivid colors. Midori, a Japanese liqueur that tastes like sweet melon, is green; Parfait d'Amour, a French liqueur, is purple and tastes like citrus and spices; and Chartreuse is an herbal liqueur that tastes like spicy mint in its greenish yellow variety and like honey and herbs in its yellow variety.
Make Your Own Alternative
With just raspberry juice, sugar and water, you can create your own simple syrup alternative to Chambord, without the alcohol. If you can't find raspberry juice, make your own by pureeing raspberries and straining out the seeds. Boil the raspberry juice, or pomegranate, pear or orange juice, along with an equal amount of sugar. Cook the mixture until the sugar dissolves. Voila – fruit syrup to use in any way and in the same amounts you would use Chambord.