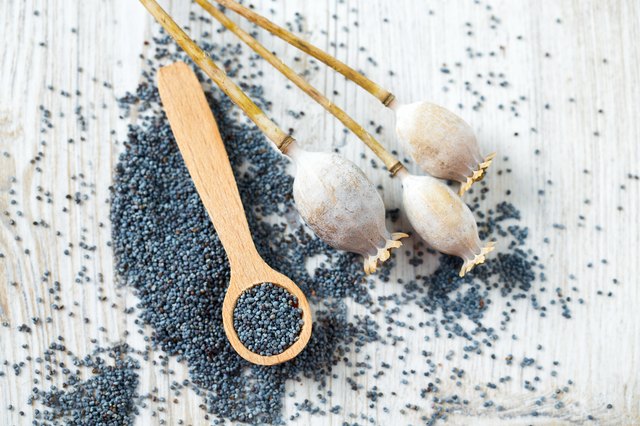 A familiar sight on rolls, muffins and salads, black poppy seeds offer crunch, visual interest and a mild, nutty taste. If you get tired of them, however -- or worry about the false negatives that they can cause on drug tests -- several alternatives exist. The substitute that works for you depends on if you want to duplicate poppy seeds exactly, if you need to add more nutrients, or you simply want to add texture and spice to a dish.
The White Stuff
To most closely copy the texture and flavor of black poppy seeds, look for white poppy seeds at ethnic markets. These Indian favorites, also known as "kas-kas," help to flavor chappatis, a type of flat bread, as well as to thicken curries. They are slightly smaller than black poppy seeds, but otherwise identical in taste and texture. Use them exactly as you would black poppy seeds, in dressings and in baking. Be warned, however, that the same drug test pitfalls exist with both white and black poppy seeds.
Open Sesame
When your dish requires texture but not too much punch, look to white sesame seeds. "Bennes," as they're sometimes known, are only slightly larger than poppy seeds, and have a similar, lightly nutty taste. The small white seeds are the main ingredient in South Carolina's benne wafer cookies, but they are more famously used as a topping on breads and rolls. Toast them to bring out their nutty flavor and give them a golden-brown color, especially when incorporating them in Asian-style salad dressings with soy sauce and vinegar. Alternatively, look for stronger-tasting black sesame seeds in Asian markets.
Petite Powerhouses
Flax seeds, hemp seeds and chia seeds are all rich in Omega-3 and Omega-6 fatty acids, making them a nutritious choice to add to sweet or savory breads. Keep flax seeds whole to more closely approximate poppy seeds, or grind them to boost their nutritional value and replace part of the flour in recipes. Hemp seeds are slightly larger than poppy seeds, but still small. Their nutty taste, especially when toasted, makes them a good option for desserts. Chia seeds become intriguingly chewy rather than crunchy in "wet" dishes such as puddings and dressings.
Spicy Seeds
Strongly flavored seeds aren't quite as versatile as the mild poppy, but they can add both texture and a unique taste to breads, sauces and dressings. Anise seed and fennel seed both impart a licorice taste, with fennel slightly milder; they work well in both sweet and savory dishes. Nigella seeds offer a low-key onion taste; toast them to bring out their pungent side. Indian ajwain seeds, which taste like thyme, traditionally top breads. The strongly flavored fenugreek mixes well in spicy sauces and curries. Celery, dill and caraway seeds top breads or are folded into creamy dressings. They should be used in small amounts so that they don't overpower the main ingredients.