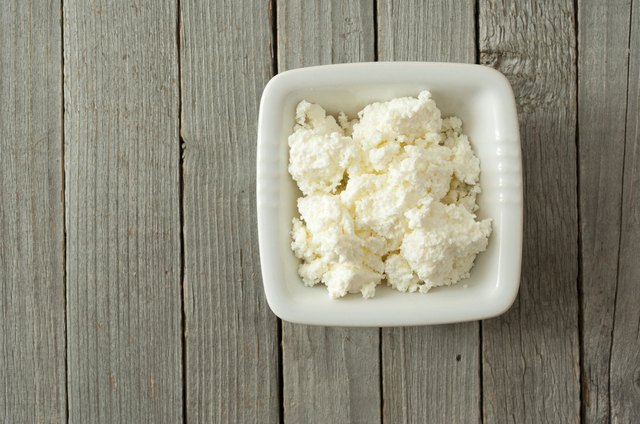 Rich and moist, ricotta cheese has a mild and slightly sweet flavor and is an ingredient in dishes as diverse as lasagna and cheesecake. If you don't have ricotta on hand or would prefer to use something else, substitutes include cottage cheese, mascarpone and tofu. When selecting a substitute, keep the dish you are making in mind because some alternative ingredients are better suited for some dishes than others.
Reliable Ricotta Substitutes
Cottage cheese works well as a substitute for ricotta, because both share similar flavors and textures, though ricotta has a smoother consistency. Cottage cheese easily replaces ricotta in lasagnas, but if you're making a dish that depends on a consistency like that of ricotta, puree the cottage cheese first. Pot cheese, a dry curd cottage cheese, can also be used in lasagnas or for stuffing pasta shells. Because pot cheese is drier and firmer than cottage cheese or ricotta, the dish may need more moisture, which you can fix with a dash or two of cream. A luscious and buttery cow's milk cheese, mascarpone makes a good alternative for rich desserts such as cheesecake. If you're making a vegan-friendly dish, tofu ricotta is the best choice. Regular tofu can be used, though it only mimics the texture of ricotta when mashed, not the flavor.