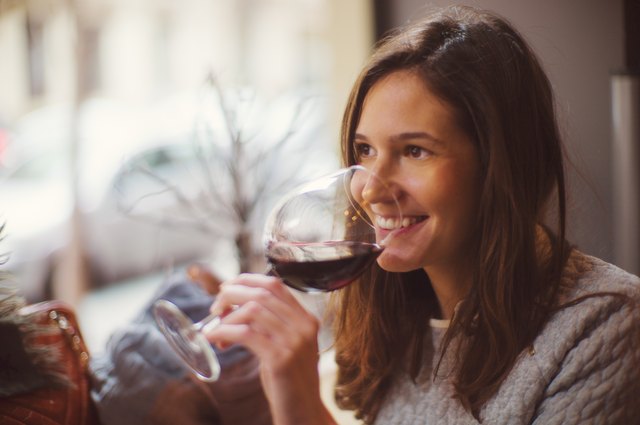 Photo by Rafa Elias/Moment/GettyImages
Enjoying a glass of red while warming up fireside on a chilly day, and sipping a refreshing rosé alfresco on a warm, sunny day are some of life's great pleasures. As Sufi poet Rumi wrote: "Let us drink the holy wine of happiness." Savoring a glass over conversation with loved ones, paired with a delicious meal, or as a go-to way to relax after a long day, wine is practically synonymous with self-care rituals or girls' nights in or out.
Yet, for those trying to eat a better diet, be more active, and lead a wellness-based lifestyle, alcohol is often the first thing to be nixed off the weekly shopping list. Luckily, the benefits of red wine for women are on the rise, as are new brands that focus on sustainable and more natural production processes, resulting in wine varietals that are cleaner, lower in sugar, and even free of harmful pesticides and additives. What does this mean for you? Carefully and consciously choosing better-for-you wines means you can still raise a glass (as if you needed another excuse). Cheers!
Reap the red and rosé benefits
In moderation, red wine is often considered heart healthy, mainly due to its key ingredient of resveratrol, a polyphenol (anti-oxidants found in grapes). Resveratrol helps prevent damage to blood vessels, reduces LDL (the bad cholesterol), and may prevent blood clots and lower inflammation that leads to heart disease.
Rosé also contains beneficial compounds, such as anti-oxidants and anti-inflammatory properties, as well as polyphenols that may help with cardiovascular health, lower bad cholesterol, and have the potential to reduce the risk of rheumatoid arthritis, according to Alix Peabody, CEO and founder of Bev canned rosé, which has 0 grams of sugar and only 3 grams of carbs.
Choose "conscious" wine options
Wine for active lifestyles is now an actual thing thanks to brands like FitVine Wine, created by athletes who combined their love of fitness and wine into a guilt-free glass (contains less sugar, fewer sulfites, and no flavor additives) that you can enjoy at night without forgoing the next day's workout.
Their wines have no trace pesticides, molds, or arsenic due to an extended fermentation process that extracts sugar, tannins, and color. Grapes are picked earlier, and each batch is tested by a third-party lab to ensure the cleanliness of the wine. It is also gluten free and vegan friendly, averaging less than .09 grams of sugar per glass.
Skip or skim the amount of sulfur
Wines that are free from additives may be a good option for those with a sensitivity to sulfur, explains Tom Beaton of FitVine Wine. Ryan Zotovich, Winc director of winemaking, agrees. He states that their winemaking philosophy is to utilize the least amount of sulfur required to act as a preservative against oxidation, keeping the wine microbial stable (i.e., protects it from turning into vinegar).
He explains that depending on vineyard choices, picking decisions, and winemaking practices, you can minimize the amount of sulfur required while still protecting the wine's quality, adding that Winc's Summer Water Rosé is a great example of a low-sulfur wine. Low- or no-sulfur wines may reduce or prevent migraines or residual stomach issues related to alcohol consumption.
Finally, there's something to be said about the social element of gathering to open a bottle and spending quality time with your girls. Fortunately, these new options and potential benefits mean you can clink glasses without guilt!