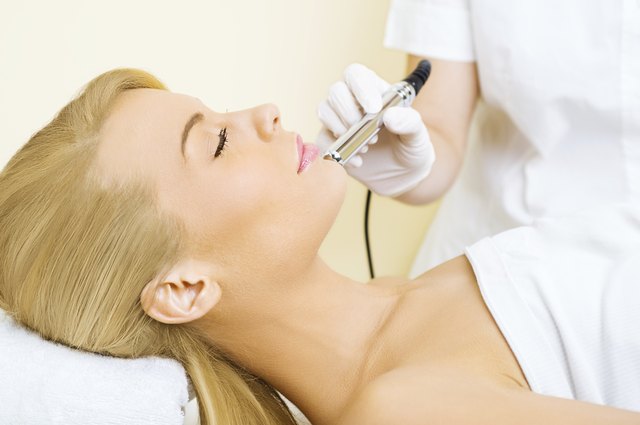 Carol_Anne/iStock/Getty Images
Radio-frequency facials have become a top anti-aging treatment, with clinical trials producing noticeable results. In his research on tissue tightening devices, Dr. Michael Gold, founder and medical director of Gold Skin Care Center, found that the use of radio-frequency facials can minimize wrinkles and fine lines on the face. Dr. Gold also discovered that when radio frequency is applied to problem areas like the thighs, it can help reduce the appearance of cellulite.
Radio Frequency in Skincare
These facials use devices that have unipolar or bipolar radio frequencies, or a combination of both, to deeply penetrate the skin with thermal energy directed into the subcutaneous layer, describes Dr. Gold. Bipolar energy provides superficial heating, while unipolar goes much deeper into the dermis. Heat initiates collagen synthesis as radio frequency ultimately damages the skin. Tightening occurs during the course of the skin's self-repair.
Clinical Trials
Unipolar energy radio-frequency massages are ideal for reducing the appearance of cellulite on the body, while bipolar energy is effective for facial massages, contends Dr. Gold. Radio-frequency treatments have been clinically approved for treating fine lines and wrinkles, yet they've also been effective in tissue tightening. While many clinical trials continue to prove the efficacy of radio-frequency treatments, Dr. Gold warns there is a disparity in the type of patients who will see results. Notably, patients with "areas of skin laxity without a great deal of muscular attachment" benefit most from such treatments.
The Treatment Process
If you're going for a radio-frequency facial, plan for a 60- to 90-minute appointment. The treatment begins with a deep cleanse using a light fruit acid or other cleanser, followed by application of a cooling gel or cream to aid in stimulating collagen and support the treatment's effects. A vacuum-like device follows, to further cleanse and exfoliate, while also providing extraction, hydration and antioxidant protection. This is followed by an LED wand radiated around the face to further stimulate collagen production. While positive changes are often seen after the first treatment, at least six treatments are recommended about one to two weeks apart for complete results. Treatments can two years or more, although quarterly maintenance may be required thereafter.
Review by a Beauty Expert
After hearing so much about radio-frequency facials, "Allure" magazine beauty editor Elizabeth Siegel decided to go for a treatment at a New York City spa. She found the results impressive -- she reported noticing much tighter cheeks immediately, and within two days of receiving treatment, her smile lines were less apparent. In addition to the facial, Siegel also received radio-frequency treatment on her stomach. While she said it felt like she'd done 500 situps after the treatment, she reported that her abs also looked like she'd done a killer workout. Siegel was happy to recommend the treatments, with a caveat: Choose your aesthetician carefully to avoid burns and other mistakes that inexperienced aestheticians may cause.