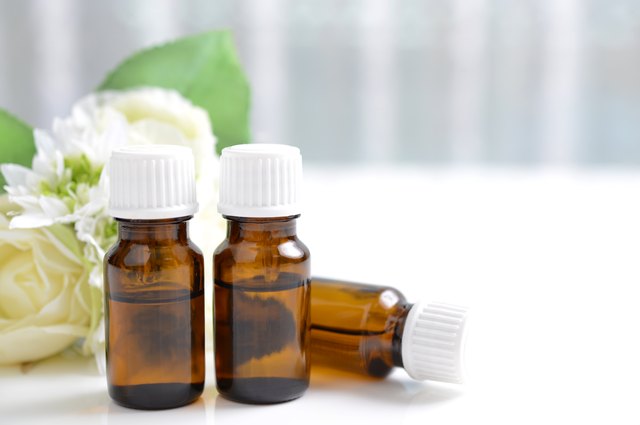 liza5450/iStock/GettyImages
Tea tree oil, which comes from Australia, has been used for years by the Aborigines for different medicinal uses. Today, we use it to treat different skin imperfections or conditions like acne, warts, athletes foot, bug bites, lice, dandruff, yeast infections or cold sores. Although tea tree oil can yield good results, you must take care when using it to ensure you don't go overboard by using too much.
Skin Irritation
Tea tree oil can cause skin sensitization or irritation on some people, especially those with sensitive skin. If you notice your skin burning, tingling or hurting more than usual on the application site, discontinue the use immediately and consult your doctor. If it dries your skin out more than you expect it to, lower the application dosage or apply it to your skin less often.
Other Drugs
If you take another drug or use a topical treatment on a regular basis, consult with your doctor or dermatologist before beginning a tea tree oil treatment. This includes any prescriptions, over-the-counter medicines or other natural, herbal treatments. For example, topical treatments with ingredients like benzoyl peroxide or salicylic acid should not be used in conjunction with tea tree oil because it will severely dry out your skin. Used in conjunction with other drugs, tea tree oil could cause harm to your skin and overall physical well-being.
Dosage
Only use tea tree oil on the skin and do not swallow it. Even though the idea of swallowing it may be tempting because of the ability to swallow other herbal medications increases their effectiveness, swallowing tea tree oil can make you sick. If you swallow the oil, you could experience mental problems like mood changes or confusion, or you could break out in a rash all over your body. These side effects also apply if you overdose by putting too much tea tree oil on your skin. If you miss a treatment, do it as soon as you remember or wait until your next treatment time. Do not double up on doses to make up for a forgotten treatment, or you will experience an overdose.
Dilute the Oil
Tea tree oil is a strong element that can cause harm to your skin and should be treated as such. Different dilutions of the oil are used to treat different things, but you will rarely ever use 100 percent tea tree oil, unless you are treating a nail fungus. For example, use a five percent solution for facial acne and treatments used on other areas of sensitive skin, and use a 25 to 50 percent solution for athlete's foot.