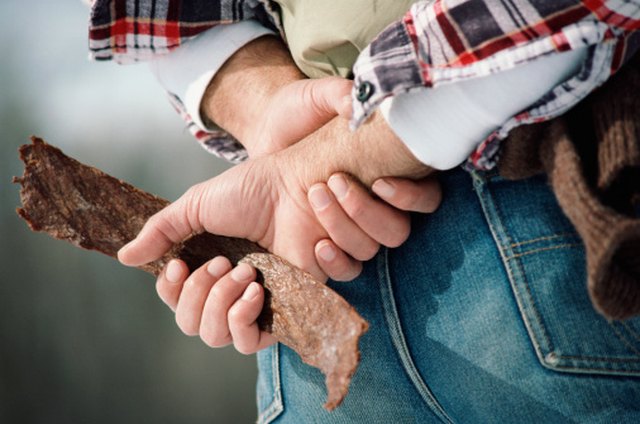 CJIdone/Creatas/Getty Images
You can use the Magic Chef food dehydrator to make beef jerky just the way you want it by following a few quick instructions. When making beef jerky, it is important to use lean meat that is marinated before the meat is dehydrated. You should always have your ingredients and spices for the marinade mixed together at least six hours before drying the beef jerky. By making your own beef jerky, you can save money and perfect a recipe to show off to your friends and family.
Cut all the fat off of the beef you are using for jerky. Leaving any fat on the meat can make the jerky turn rancid. Cut the fat-free meat into long narrow strips.
Place your meat strips into bags full of your marinade of choice. You may want to use teriyaki, hot spices, salt, onions or sweet and sour sauce. Place the bags in the refrigerator for at least one hour. Marinate the meat longer for a stronger taste.
Wash and dry the dehydrator thoroughly. Preheat the dehydrator once it is dry by turning it on five to 10 minutes before you want to dehydrate the meat.
Load the trays with the marinated meat, and dehydrate the meat for 17 to 30 hours. Do not overload the trays or crowd them with the beef.
Place the dehydrated meat into bags and store them in the refrigerator right after the dehydrating process.