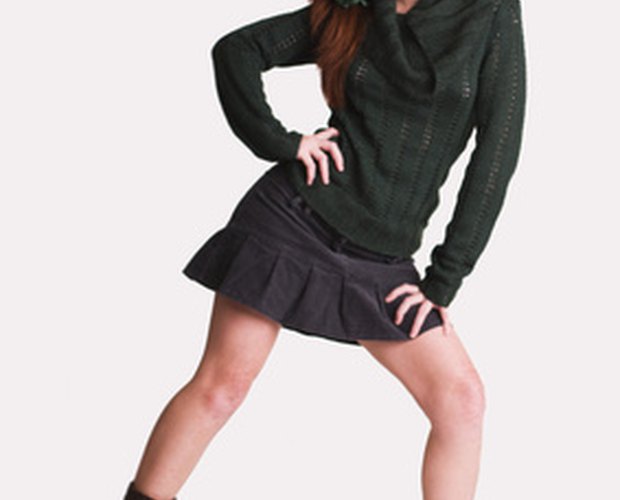 my short skirt image by Frenk_Danielle Kaufmann from <a href='http://www.fotolia.com'>Fotolia.com</a>
France has long enjoyed a reputation for setting fashion trends in clothing. Although contemporary French clothing has adapted to clothing trends of the Western world, there are still characteristics of historic French clothing seen in many clothing designs of modern French designers. The high quality of French clothing is seen in the workplace, as well as when entertaining friends or going out on the town. Besides being sophisticated, French clothing is generally conservative, elegant and refined, notes Travels.com.
Benefits
Because a French wardrobe tends to include more neutral colors, French clothing doesn't go out of style as much as other types of clothing, notes FreeBeautyTips.org. Neutral colors are usually accented by adding high quality accessories such as colorful scarves or purses. French clothing can also last longer because of its high quality.
Size
There are differences in sizing systems and discrepancies between manufacturers of American and French clothing. For example, in the United States, a woman's size 10 is equivalent to a French size 40, according to OnlineConversion.com. Consumers should first measure clothes in centimeters or inches and then ask for this information when selecting French clothes from a store. Before buying online clothes, ensure the seller has a return police because it's highly possible to end up with a size that doesn't properly fit. French shoe sizes also differ from those in the United Kingdom, as a size 8 men's shoe in the United Kingdom corresponds to a size 42 French shoe size.
Layer Dressing
Because temperatures in France can vary, dressing in layers is a main feature of French clothing. Tourists should include light wraps such as sweaters, jackets or raincoats, which can easily be removed as temperatures change. Although layer dressing is trendy, jackets and sweaters should also be coordinated with clothing, regarding color and style.
Footwear
Shoes receive more attention than clothes in French fashion. According to ParisEscapes.com, about 90 percent of time, people notice shoes more than what a person wears. Tourists should choose black tennis shoes, leaving their white sneakers at home. Wearing white tennis shoes is a sure sign of a tourist, making a person wearing white sneakers vulnerable to pickpockets.
Ballet flats or low-heels are worn for daytime walking, while stilettos are worn for evening strolls. Loafers, flats and boots are the preferred footwear for leisure settings.
Considerations
Tourists can fit in with the culture by wearing fitted or tailored clothes and designer clothing, although they shouldn't wear casual American styles, advises Travel.com. Casual clothing is mostly reserved for the gym and rarely seen on streets. Today, denim jeans are more commonly seen in upscale restaurants, according to ParisEscape.com, although not just any type is accepted. Jeans should be slim-fitted, dark or slightly flared.
Warning
Don't wear shorts because they make you stand out as a "non-local" and can be a dead giveaway that you're a tourist. Even "hot pants" are rarely seen on streets. Instead of shorts, young women should wear skirts of various lengths. Always cover legs and shoulders when in any house of worship in France, cautions FranceTravelGuide.com. Regardless of the heat, this is an unspoken rule that demands following.