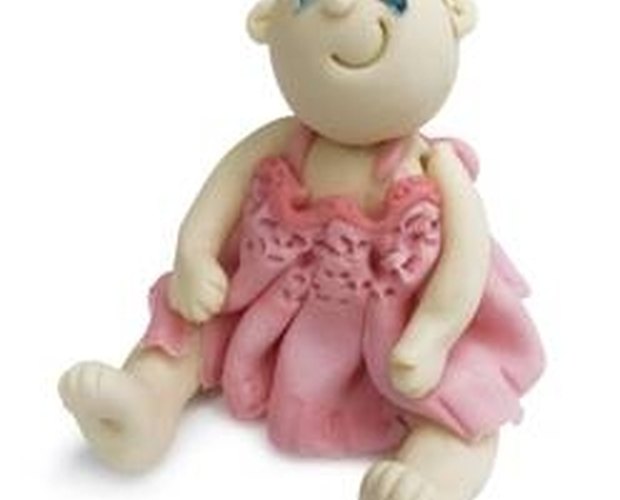 stock.xchng.com, freedigitalphotos.net
Fondant is one of the most fun, creative and versatile compounds you can work with in your kitchen. You can use it to frost cakes, decorate cookies, make candy and--if you are feeling particularly creative--you can mold it, roll it, twist it and cut it into any shape imaginable. It's important to be patient with yourself. Your first attempt at fondant figures may not turn out exactly as you expect them to, but as the saying goes, "practice makes perfect." So have fun, follow these easy steps and soon you will be skilled in the art of fondant.
Make your royal icing (recipe below) and set it aside. You will use this to "glue" your fondant pieces together.
Decide what types of figures you are going to make. If you can find pictures, images or drawings to study as you mold your fondant, this would be most helpful. For example, if you are planning to make cartoon figures for a child's party cake, place images of the cartoons in front of you as guides.
Dust your working surface and your hands with corn starch. Keep the corn starch nearby--working with the fondant will make it sticky, and dusting your hands with corn starch will make molding the fondant easier.
Remove a small amount of fondant--only as much as you need for your first figure--from the tub and knead it. Work it well with your hands until it begins to soften into a pliable dough.
Add the gum-tex karaya: 1 tsp. per 12 oz. of fondant. Work it thoroughly into the fondant. The gum-tex will keep your fondant pliable longer and make it easier to mold.
Add your fondant flavor. This is optional, but if you wish to flavor your fondant, now is the time to add the flavor of your choice. Begin with just a couple of drops of flavor and knead it thoroughly into the fondant. Taste your mixture--you may add more drops of flavor until the desired taste is achieved.
Add your fondant color. From your kneaded fondant, break off the first piece of fondant you wish to mold (wrap the rest in plastic wrap) and add just one or two drops of color. Knead the fondant until the color is thoroughly blended. You may add more color until the desired color is achieved.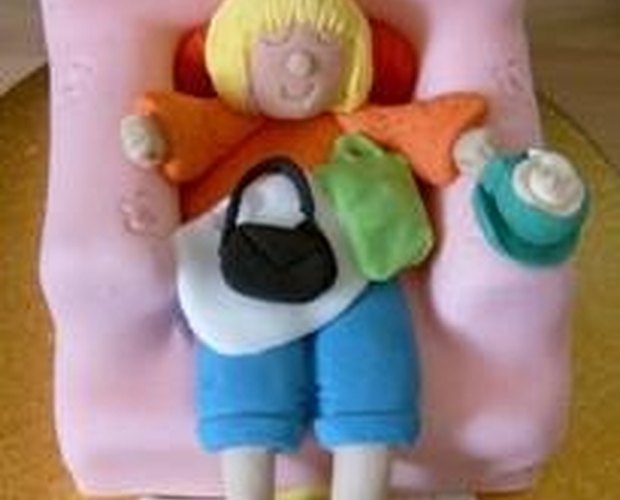 Mold your fondant. Shape your colored fondant into the head of your first figure. Use your fondant smoother to smooth and complete the shape.
Repeat steps 7 and 8 to make the remainder of your figure: it's body, arms, legs, hands, feet, paws, eyes, ears and nose; whatever body parts it may need. Use your royal icing to "glue" the body parts together.
Decorate your figure. Use your cookie cutters to cut shapes to decorate your figure. For example, you can use tiny heart cookie cutters to make wings for angels. Use your confectionery tools to add details like dimples on the cheeks or waves in the hair.
Repeat steps 4 through 10 for each figure you intend to make.
When your figures are finished, set them aside to harden for 2 days before using them to decorate cakes, cupcakes, etc.
Combine 3 tbsp. of meringue powder, 4 cups of confectioner's sugar, 5 tbsp. of warm water and 1 tsp. of vanilla extract in a bowl.
Using your hand mixer, beat the mixture on high speed for 10 to 12 minutes, or until stiff peaks form.
Cover your royal icing with a damp cloth--and keep it covered at all times--to keep it from drying out.
Tip
You can find everything you need to make your fondant figures and royal icing on the Internet, or at specialty baking/cooking supply stores. If your fondant begins to dry, knead a pinch of vegetable shortening into it. Fondant dries very quickly. Keep the fondant that you are not using wrapped in plastic until you are ready to work with it. When your figures are finished, allow them to dry for two days before using or displaying them.