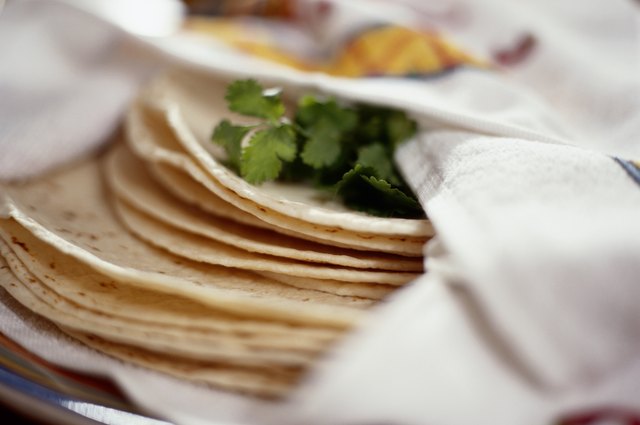 Ryan McVay/Photodisc/Getty Images
Terra cotta tortilla warmers keep your flatbreads warm and pliable until serving. Their clay construction allows you to heat tortillas without worrying about them drying out. Warming tortillas softens them so that they easily wrap around your favorite fillings. The terra cotta warmer traps heat and moisture so that you do not need to wrap the tortillas in foil. Decorative tortilla warmers also do double duty as servers, letting you take your tortillas directly from the oven to the table.
Heat the oven to 350 degrees.
Stack the tortillas in the terra cotta tortilla warmer.
Cover with the lid and heat in the oven for 15 minutes or until the tortillas feel warm and soft.
Remove the warmer from the oven and transfer to the table for serving. Set the tortilla warmer on top of a trivet or thick towel to prevent damage to the table from the warmer's heat.
Shake out any food crumbs and rinse with hot water. Do not use soap in a terra cotta dish or put it into the dishwasher. Dry completely before storage.