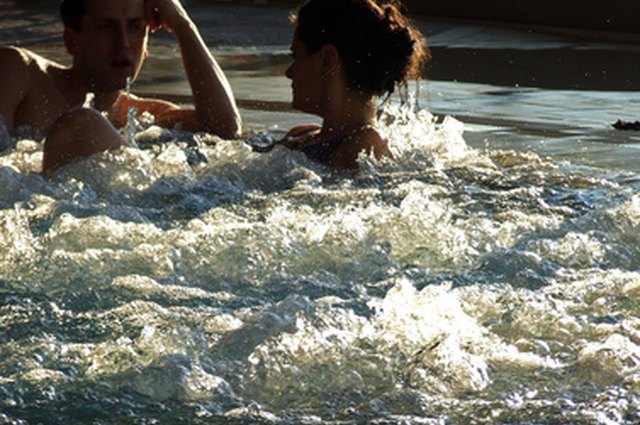 jacuzzi love image by .shock from <a href='http://www.fotolia.com'>Fotolia.com</a>
Sundance Spas offers hot tubs for home use. Many customers own either the above-ground or underground hot tubs Sundance Spas sells. The company believes its products promote a healthy lifestyle by providing stress relief and relaxation. But when something goes wrong with your Sundance Spas hot tub, that relaxation ends. Don't let your hot tub's hiccup cause you stress. It is easy to troubleshoot Sundance Spas, and you have plenty of fix-it options.
If the hot tub won't turn on, it may not have power. Double check to make sure it's plugged into a working outlet. You also may be experiencing circuit breaker problems. In this case, call an electrician.
If the spa's jets are weak, first press the "JETS 1" button to turn the first pump on. Turn the air control to "on" and check to see that all of the jets are completely open. If these steps don't work, try cleaning the filter. Dirty filters lead to poor performance.
If your hot tub won't heat up, first check to make sure you have it set to the desired degree. Try putting the cover on so that heat won't escape, making the warming process faster. Make sure it's not set to the economy filtration/heating mode, which regulates temperature.
If everything appears to be working except for a lack of water traveling through the jets, press the "JETS 1" button multiple times in a row, letting it run for short periods of 5 to 10 seconds. If that doesn't work, try removing the filter and loosening the cap on the massage selector after you've turned off your hot tub.
If your hot tub is too hot, either turn the temperature down or completely off and allow it to cool with the top off. This will allow the heat to escape faster.
Tip
If you still aren't having any success, give the company a call. Sometimes it's easiest to talk to a live person. The Sundance Spas customer service number is 1-800-883-7727. Someone should be available to help you Monday through Friday from 8 a.m. to 5 p.m. Pacific time.
If your hot tub has splashed its last bath, don't worry. Most of Sundance Spas' hot tubs are under warranty. Visit the company's website and click on "Owner's Corner/ Warranty" on the top right corner, where you can see if yours is covered.
Warning
If any cords are damaged, contact Sundance Spas right away. This is a safety hazard.
References