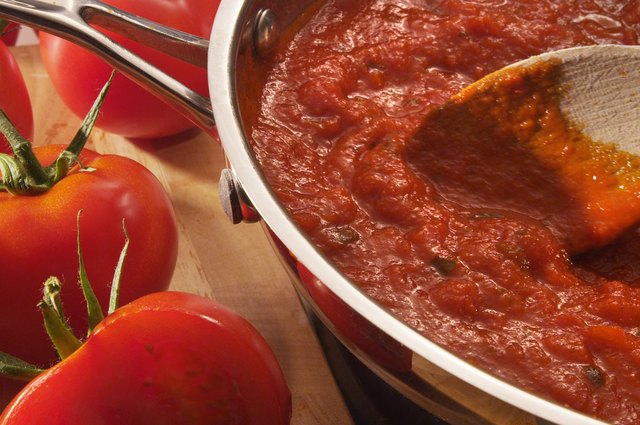 Stewed tomatoes are a popular ingredient for use in soups, stews and sauces; however, the tomato water can make for a thinner end product than desired. There are a few methods to thicken the tomato water depending on what you have on-hand.
Stewed tomatoes can be thickened by simmering over low heat on the stove top until enough water has evaporated to create the desired consistency. Stir the tomatoes occasionally and have patience, as this method may take up to an hour depending on how much liquid is there.
Thicken stewed tomatoes by straining the tomato water into a food processor and pureeing it with one of the stewed tomatoes. If it is still too thin, add one tomato at a time and puree again until the correct consistency is reached.
This classic cooking technique combines equal parts hot fat (usually butter) and flour into a paste. Once you have formed a roux, whisk in a little tomato water slowly until the mixture can be poured in with the rest of the stewed tomatoes. Stir over medium-low heat to combine with the tomatoes until they thicken.
Cornstarch and arrowroot powder work the same way as one another as thickening agents. Combine equal parts cornstarch or arrowroot powder and tomato water to form a slurry. Add the slurry to the stewed tomatoes and heat on medium-low, stirring frequently, until the tomatoes have thickened.
Tips
Cornstarch and arrowroot powder work best when a cold liquid is used for the slurry, and when the cold slurry is added to liquid that is already warm. It is fine to use plain water if your stewed tomato liquid is already warm.