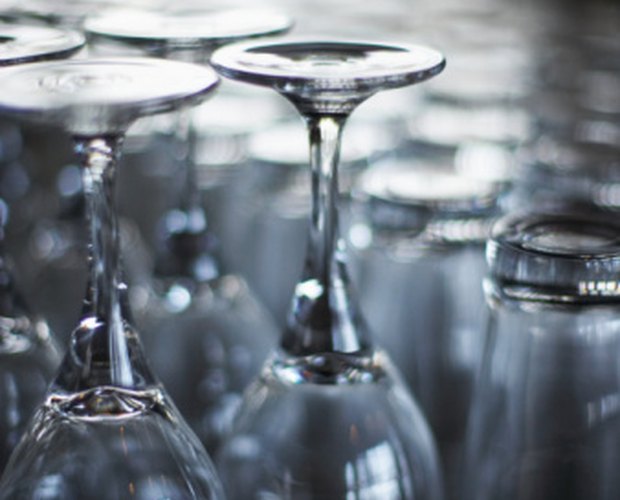 Jupiterimages/Photos.com/Getty Images
Bartenders have to move fast and nimbly. Their tools must be within reach around what is often a small radius of space. Liquor bottles must be arranged in a consistent order, glasses must be easy to grab and drink garnishes must be prepped and placed at the bartender's fingertips. When things are out of order, control behind the bar is easily lost ultimately sacrificing guest satisfaction.
Stock and stack the glasses. The most efficient way to do this is by arranging each type of glass closest to the appropriate spirit. For instance, stock the Pilsner glasses near where the beer taps and bottles are located. Stock rocks and highball glasses closest to the rail and liquor shelves and wine glasses in proximity to the wine.
Arrange liquor bottles. Some bars are set up with two rails, those shelves that are located closest to the bartender's work station. One rail for the bottom-shelf liquor brands and a second for the mid-quality brands. These are the bottles with which a bartender generally works the most, so they must be easily accessible. Top-shelf brands and specialty liquors should be placed nearby. The rails should be set up in the same horizontal order for every bartender, every night. For instance, the most common order is, from left to right: vodka, gin, bourbon, whiskey, tequila, brandy, triple sec.
Stock beer and wine. Provide your guests with plenty of choices. In addition to imported and domestic beers including light options. Of course you should provide a few choices in red and white wines, as well as sparkling and sulfite-free.
Stock juices, sour mix and sodas. The most common juices stocked behind any bar are: grapefruit, orange and cranberry cocktail. If your bar is not equipped with a soda gun (highly recommended), then be sure to provide plenty of lemon-lime, club and cola bottles nearby. While many pre-made sour mixes are available, most are cloyingly sweet and taste like chalk. For quality concoctions, try making your own sour mix with a mixture of lime juice concentrate, orange juice and simple syrup. This and the juices should be stored in ready-pour containers.
Prep the garnish tray. No bar is equipped without a well-stocked garnish tray. These consist of the fruits and other accouterments that adorn the glasses and cocktails: maraschino cherries, olives, cocktail onions, orange slices, lemon and lime wedges. When cutting fruit, cut lemons and limes into wedges rather than circles, since most patrons want that squeeze of citrus in their cocktails. Be certain to cut a small slit in the center of each wedge to easily slide it over the rim of the glass. Lemon twists can be cut a number of ways, but the most visually appealing are cut in long strips until they achieve a corkscrew shape. A separate caddy filled with kosher salt and lime juice for rimming margarita glasses should also be prepped during this stage.
Set out the paper and plastic. Fill small glasses with cocktail stirrers and toothpicks for garnish stacking like olives for martinis or cherries and oranges for old fashions. Create small piles of cocktail napkins and disperse them all around the bar.
Tip
Place enough stacks of napkins around the bar so the bartender is not forced to run back to his work station to place one in front of a customer. A pot of coffee on a hot plate or electric burner is a good idea if your restaurant serves coffee drinks. Depending on the drink menu, a plate of cocoa for chocolate martinis might also be kept close by. Free bar snacks are always appreciated by patrons, but if you are providing a bar menu, you might want to keep these to a minimum if you want to increase your food revenue. A dishwasher inside the bar area is highly recommended.
Warning
Be sure to leave the bartender plenty of work space in which to mix drinks. Do not overcrowd it with bottles and barware.