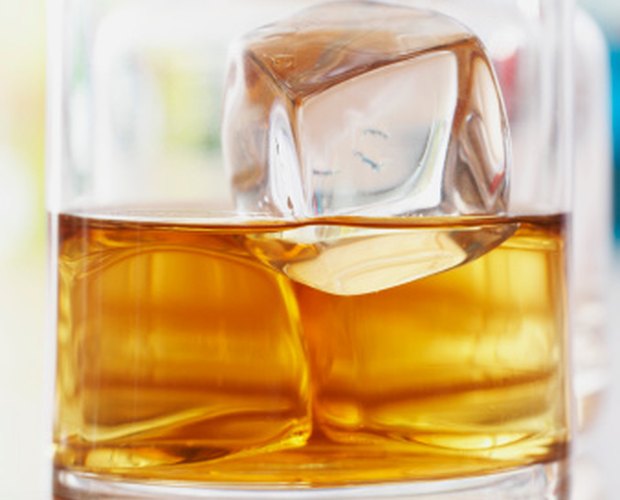 Martin Poole/Photodisc/Getty Images
Drambuie is a Scottish liqueur invented by Bonnie Prince Charlie over 250 years ago. A golden liqueur, Drambuie is made with a whiskey base and infused with a variety of herbs. Its flavor has notes of nutmeg, honey, saffron and anise. There are many ways to serve Drambuie liqueur. The best way to enjoy its complexity is to drink it neat or on the rocks. It can also be combined with an array of mixers to create a variety of tasty libations.
Mix one part Drambuie and three parts mixer (Drambuie recommends soda water, ginger beer, orange juice, champagne) over ice to create a flavorful tall drink in a highball glass. Add a twist of lime or orange, or even grated ginger, to spice up the cocktail.
Serve a Rusty Nail. Mix 1 part Drambuie and 1 part Scotch whiskey over ice. Stir and add a lemon wedge.
Create a Libertine by cutting a 1/2 of lime into wedges. Muddle, or lightly mash, the wedges in the bottom of an old-fashioned glass. Add ice and 1 shot of Drambuie. Top with a splash of soda if desired.
Serve a new twist on a whiskey sour. Mix the juice of 1/2 lemon, one shot of Drambuie and a splash of bitters in a shaker filled with ice. Shake well and pour it through the shaker's strainer into an old-fashioned glass filled with ice.
Blend a Drambuie Apple Soda. Mix 1.5 parts Drambuie, 3 parts apple juice in a highball glass. Top up the glass with soda or chardonnay. Add a squeeze of lime and apple slices for garnish.
Mix Drambuie martinis. Mix 2 parts Drambuie, 1/2 part dry vermouth and a dash of bitters in a shaker filled with ice. Shake well and pour into a chilled martini glass to make a dry Manhattan martini. To create a vanilla spice martini, substitute the Manhattan's ingredients with 1 part Drambuie, 1 part vanilla vodka, 1.5 parts cranberry juice and serve the same way.
References