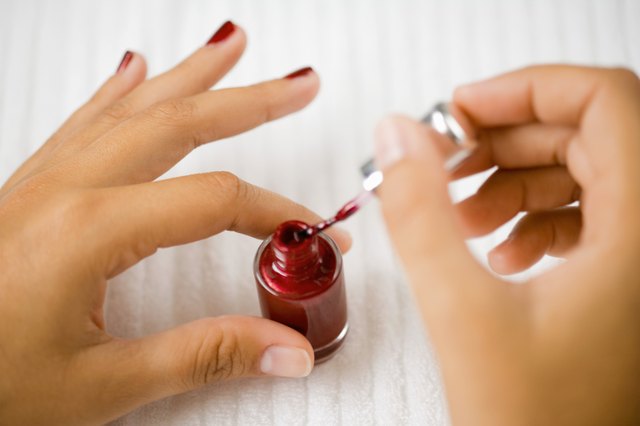 Pixland/Pixland/Getty Images
With some premium nail polishes and lacquers costing you to dish out double digits, the last thing you want is to throw away a half-used bottle just because it's turned thick or sticky. This is especially true if you have a favorite, limited-edition shade that you just can't find anymore. If your bottle of nail beauty has turned into a beast, don't despair -- you can restore your old, sticky nail polish to a like-new consistency by adding nail polish thinner made specifically for the task.
Remove the cap and brush from your old nail polish bottle. Set aside on a paper towel. Add any dried pieces of polish back into the bottle to preserve the pigment.
Add one drop of nail polish thinner at a time to the bottle of nail polish. Replace the brush and cap. Shake well and test the consistency on your nail.
Continue to add one drop of thinner, testing after each drop, until you reach the desired consistency. Do not add too much thinner, as you cannot re-thicken the polish if it gets too thin.
Warning
Do not use nail polish remover to thin out sticky nail polish. Ingredients in nail polish remover can cause the polish to separate in the bottle.