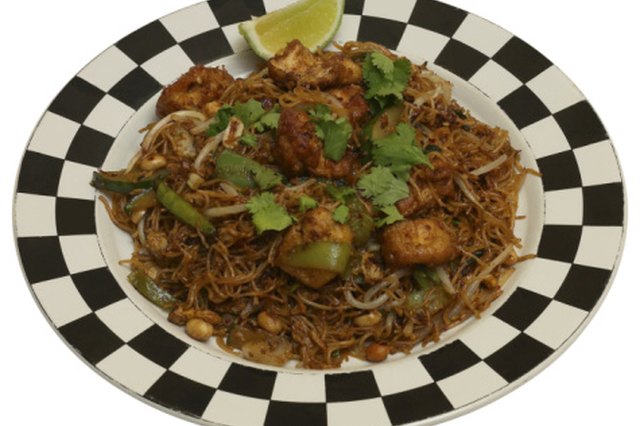 Hemera Technologies/PhotoObjects.net/Getty Images
If you are a vegetarian looking for a healthy meat replacement ingredient, make soya chunks a part of your menu. Soya chunks are textured soy protein (TSP) that resemble meat. Soya chunks appear dry and dehydrated but once cooked, they resemble chewy meat chunks that are hard to tell apart from real beef or chicken. Soya chunks are made from defatted soy flour through an extrusion process that gives them a fibrous and chewy texture. Use soya chunks within three days of preparation, store them dry at room temperature for more than a year.
Boil water and add 2 tsp. salt. Add soya chunks and allow it to cook for 30 minutes. This re-hydrates the soya chunks, making them soft and chewy. Drain the soya chunks and reserve 1 1/2 cups of water for the sauce. Squeeze out excess water from the chunks and set them aside.
Heat oil in a saute pan and add red chili flakes. Add onions, bell peppers, green chiles, ginger and garlic. Fry till onions are soft and translucent.
Add soya chunks to the onion mixture and season with salt. Toss to combine.
Combine the reserved water with soy sauce, tomato puree and tomato ketchup. Add this mixture to the soya chunks and cook for 10 minutes until the sauce thickens.
Tip
Serve soya chunks with steamed rice.
References