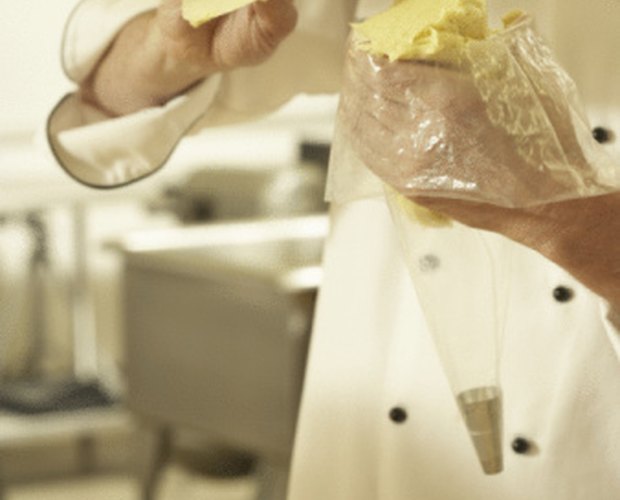 Jupiterimages/Photos.com/Getty Images
If the desired look for a cake is flames on the side of a motorcycle or leaping from a dragon's mouth consider piping the flames onto the cake. Piping allows even the most novice cake decorator more control when adding detail to a cake. Other techniques, such as gum paste or fondant, require time and experience to execute well. Piping, on the other hand, uses traditional icing available in grocery stores and a few drops of food coloring. Show guests who is hot stuff by learning this cake decorating technique.
Prepare the pastry bags. Remove the coupler from each tip. Push the coupler as far down as you can into the pastry bag, toward the end. Mark the bottom of the coupler with the pencil on the outside of the bag. Remove the coupler. Cut along the mark. Put the coupler bag into the bag, and place the tip over the coupler on the outside of the bag. Place the ring over the tip, and screw it in place.
Add 2 cups of icing to each bowl. Stir in a few drops of food coloring: red in one bowl, yellow in another and orange in the third. Add color until the icing is the desired shade.
Use a spatula to add the icing to the bag.
Practice making flames on a piece of wax player. Make an outline of the flame with the red icing. Fill it in with more red icing. Repeat with the yellow icing, but make it small enough to fit inside of the red flame. Use the orange icing to make a smaller flame on top of the yellow. You can even print out pictures of flames to trace to help with the technique.
Use the technique on the cake once you have mastered it. If you make a mistake, slide a thin spatula or non-serrated knife underneath the flames. Gently life up to remove the icing.