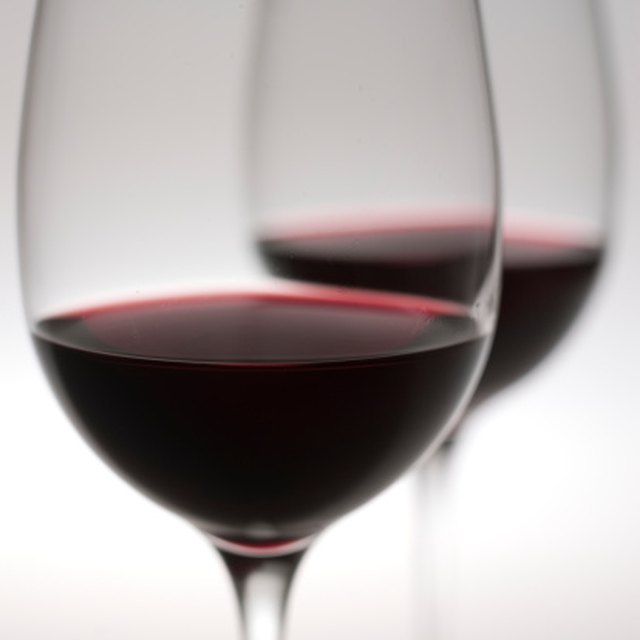 Barry Wong/Photodisc/Getty Images
Amarone della Valpolicella, normally just referred to as Amarone, is made in the Valpolicella region north of Verona in northern Italy. The wine was awarded Italy's top DOCG classification in 2009. Using the same grapes as Valpolicella--a blend of Corvina, Molinara and Rondinella--the grapes for Amarone are partially dried. This unique method, called appassimento, results in grapes of an intense flavor and high sugar content, helping make Amarone a very rich and tannic wine with a lot of alcohol.
Understand the characteristics of Amarone. Because Amarone is a highly alcoholic at 15 percent or greater and often has a complex flavor that is slightly bitter, pairing it with food requires more thought than is typical. Amarone can easily overpower most fare. It goes best with rich meats and ripe, usually aged, assertively flavored cheeses. So, it works best later in the meal.
Coordinate it with the rest of your menu. If you plan to serve more than one course, you might want to serve a lighter wine, or wines, with these foods before serving the Amarone. Lighter wines pair better with the lighter dishes. An exception to an early course where Amarone might work is a pasta with a rich sauce. Examples are the classic Tuscan preparations of pappardelle with a sauce featuring long-simmered hare (or rabbit) or one with wild boar. The match might not be ideal, but it could be quite complementary.
Plan to serve a rich meat preparation for the main dish specifically for the Amarone. According to the website for Banfi, which has a wide-ranging portfolio of wines, "delicate cuts of meat, simply prepared, are delicious when served with older, more mature reds," like an aged Bordeaux and Amarone. Braised meats, rich stews and roasted and grilled meats including game can be other fine options.
Consider serving Amarone at the end of the meal. If your menu does not feature a rich, meaty centerpiece and you really want to share that special bottle of Amarone, it is probably best left until after the savory courses are consumed. Amarone works well with strongly flavored, sharp and very ripe cheeses. A few suggestions include the dried Provolone Piccante, artisanal Pecorino Romano, Gorgonzola Naturale--which is the intense, aged version of Gorgonzola--and, Parmigiano Reggiano, the king of cheeses.