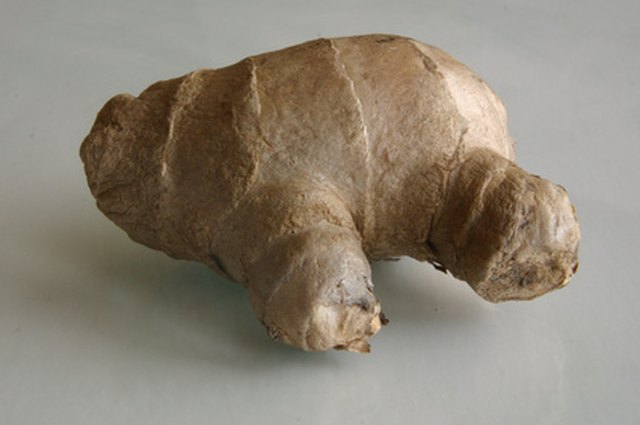 Ginger root is spicy and pungent and adds characteristic flavor to many dishes, particularly those of Asian cuisine. It has many human health benefits, including relieving nausea, dizziness and inflammation. Fresh ginger in available in most grocery stores and supermarkets and is a knob-shaped root covered with light brown skin. Although ginger root can be used raw, the flavor is extremely pungent, and cooking it slightly in the microwave will mellow the flavor.
Wash the knob of ginger under cold, running water.
Peel the ginger, using either the paring knife or gently scraping the skin off with the side of the spoon.
Cut the ginger into several slices, using the paring knife.
Place the slices of ginger in the microwave-safe bowl.
Place the bowl in the microwave, and heat on a high power for 60 to 90 seconds (any longer will dry out the ginger root).
Tip
As fresh ginger root is prone to drying out quickly, store it tightly covered in the refrigerator or freezer, rather than on the counter.
Try placing a small piece of fresh peeled ginger root in a mug filled with water, microwave for 2 minutes and enjoy fresh ginger tea.
References