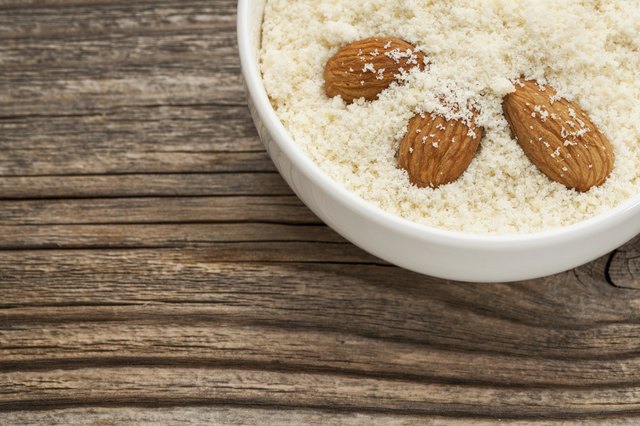 marekuliasz/iStock/Getty Images
The delicate sweetness and crunchy texture of a sugar cookie is hard to duplicate if you're avoiding gluten or all grains. But, by using a combination of almond meal and coconut flour, you can have flourless sugar cookies good enough to eat plain or to roll out, cut out and decorate. Coconut flour is hypoallergenic, which means that not many people have a reaction to it, and it's completely free of gluten since it's made from dried coconut fiber. Make your own almond meal for this recipe by using your food processor to grind a cup of whole, raw almonds into a fine powder. Alternatively, use store-bought almond meal.
Prep Time: 10 minutes | Cook Time: 12 to 16 minutes | Serves: 16 cookies
Ingredients
1 cup raw almonds ground into a fine powder OR 1 cup almond meal
1/2 cup coconut flour
1/4 teaspoon baking soda
1/8 teaspoon salt
3/4 cup granulated sugar
2 tablespoons unsalted butter – melted
2 tablespoons coconut oil – melted
1 teaspoon vanilla
2 eggs
Instructions
In a large bowl, combine the ground almonds, coconut flour, baking soda, salt and sugar. In a separate, medium bowl, stir together the butter, coconut oil, eggs and vanilla. Add the wet ingredients to the dry ingredients and stir until the mixture is thoroughly combined. The batter will be thick and slightly gooey.
Heat the oven to 325 degrees Fahrenheit. Pinch off about 1 1/2 tablespoons of batter and roll it into a ball. Place on a greased cookie sheet and press down slightly to form a thick disc. Repeat with all of the batter, leaving about 1/2 inch between the raw cookies to allow for spread.
Bake for 12 to 16 minutes, or until the cookies are lightly browned. Allow them to cool for 5 minutes before transferring to a rack or plate to cool completely.
Decorated Cookies
If you'd like to make sugar-cookie cutouts, form the batter into a large disc, wrap it in plastic wrap and refrigerate it for at least one hour. Unwrap the cold dough and roll out with a rolling pin dusted with coconut flour. Use cookie cutters to create designs and bake. Cool completely before frosting.
Taste Considerations
The coconut flour and coconut oil impart a light coconut flavor to the cookies. To lessen this effect, replace the 2 tablespoons of coconut oil with 2 tablespoons of butter. To deepen the almond flavor of the cookies, add 1/4 teaspoon of almond extract along with the other wet ingredients. You can find coconut flour and almond meal at most alternative food stores and even some major supermarkets.