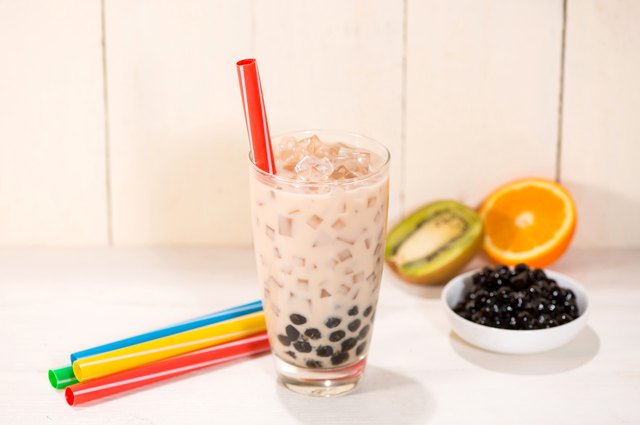 Bubble tea is an Asian-inspired drink that is made from tapioca pearls. Bubble tea, or boba, as it is sometimes called, can be made in a number of variations, some of which do not actually contain any tea. Strawberry bubble tea is a fruity drink made from fresh or frozen strawberries, tapioca pearls and simple syrup. This strawberry boba drink recipe makes one 16 oz. serving.
Place 1 cup of strawberries and 1/2 cup of either milk or tea into a blender. If you choose to use tea instead of milk, also add 2 tbsp. of half and half or light cream to make the strawberry bubble tea creamy.
Add 1 tbsp. of bubble tea sugar syrup to the strawberries and liquid mixture. Bubble tea sugar syrup is a type of simple syrup made by boiling equal parts sugar and water together. Use a combination of brown and white sugars (equal parts of each) for a rich syrup.
Pour 1 cup of ice--cubed or crushed is fine--in the blender. Blend all ingredients together until the drink is the consistency of a smoothie or a milkshake.
Spoon 4 tbsp. of cooked tapioca pearls--the base of a bubble tea drink--into a large, 16 oz. glass.
Pour the strawberry mixture over the tapioca pearls and stir.
Tips
Drink the strawberry bubble tea with a wide straw that will allow the tapioca pearls through.