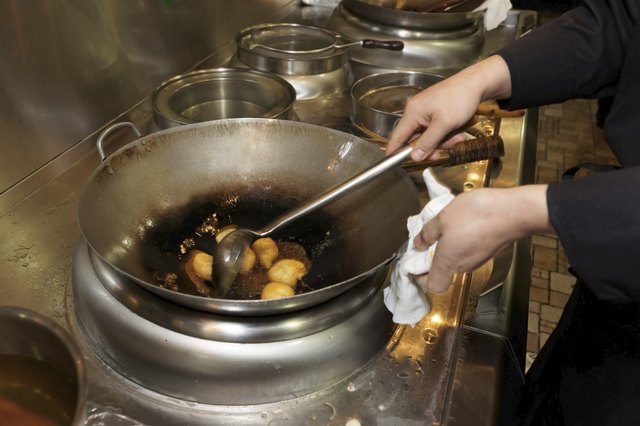 Kondor83/iStock/Getty Images
Start to Finish: 30 minutes Servings: 8 to 10 Difficulty: Beginner
The delight of any Chinese food buffet, Chinese fried doughnuts have a signature crunch on the outside, a pillowy-soft, lightly sweet interior, complemented by a generous coating of granulated sugar. Like any doughnut, Chinese doughnuts taste best fresh out of the oil. You can make Chinese fried doughnuts with your favorite biscuit dough recipe, but, to simplify the process, start with refrigerated, canned biscuit dough.
Ingredients
3 to 4 cups peanut oil
1 package refrigerated biscuit dough (8- to 10-count)
1/2 cup granulated sugar
Directions
Heat the oil in a skillet or wok over medium heat until the surface shimmers. A drop of water should sizzle in the oil. If you have a thermometer, the temperature should read about 375 F.
Drop the biscuits in the hot oil, leaving at least 2 inches between each biscuit for easy flipping. Fry the dough for about 2 minutes or until the edges puff up and are golden brown.
Flip the biscuits and fry for another 2 minutes or until golden brown.
Transfer the fried doughnuts to a plate lined with paper towels. Allow the oil to drain for about 1 minute.
Add the granulated sugar to a wide, shallow bowl. Toss the doughnuts in the sugar to coat.
Tips
The oil should be at least 1 inch deep in the deepest part of the skillet or wok. The exact amount of oil needed depends on the size of the pan.
A pair of chopsticks works very well for quickly and easily flipping the doughnuts, but this skill takes a bit of finesse. Tongs or a fork also work well, but flip carefully to avoid squishing the doughnuts or splashing hot oil.
Kids might prefer doughnut holes to large, whole doughnuts. To make doughnut holes, lay the raw biscuit circles on a lightly floured surface. Use a cookie cutter to cut out small circles -- a bottle cap works well, too. Roll the circles gently in your palms to form a ball and fry as you would with whole biscuit dough.
Serving Suggestions
Many would argue that Chinese fried doughnuts are perfect as is, but they also pair well with ice cream or fresh fruit and syrup.