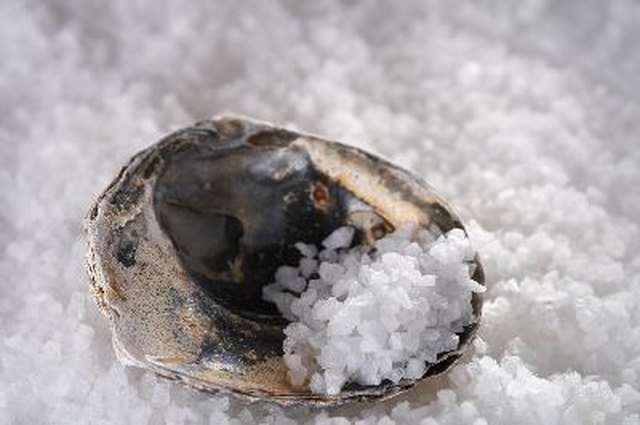 sea salt in sea shell on salts background image by Elena Moiseeva from Fotolia.com
Sea salt has been used in healing bath waters for millennia. The soothing, rejuvenating properties imparted by minerals in the salts can reduce arthritis pain, muscle fatigue and irritation from eczema and psoriasis. At the end of a long day, a calming sea salt bath soaks away your tension and leaves you feeling refreshed and energized. Salons and spas will charge a high price for restoring your inner peace with an extravagant salt bath, but the bliss is all the greater when you spare your bank account and make them yourself. Treat yourself every night.
The type of salt you choose will determine the quality of your bath. Salt from the Dead Sea in Isreal contains a very high concentration of minerals, which makes it the best type of salt for use in baths and spa treatments. It is more expensive than other types of sea salts, but it will provide you with the most luxurious of baths. Check the label carefully when you buy sea salt. Some salts will say they contain properties "similar to" or "like" Dead Sea Salts. Don't be fooled. Go for the real deal.
Pour two cups of sea salt into the large container.
Place a few drops of essential oil into the salts. If you want to color your salts, this is also the time to add a couple of drops of food coloring.
Close the container securely and shake it vigorously to distribute the scent of the essential oils and the food coloring evenly throughout the salt crystals.
Transfer the salts into the smaller container and seal with the lid. Let the salts sit overnight to allow the oil to infuse into the salt crystals.
If you want to give the salts as a gift, or display them on an open shelf, you can add a pretty label or a ribbon to the jar.
Add about ½ a cup of your bath salts into a full tub of warm water. Swish the salts until they are dissolved and then relax.
Tip
If you make different color salts in batches, you can layer them in your small glass storage jar for a lovely effect.
Blend different essential oils or layer salts of different scents. Just test the combinations first to make sure the scents don't clash.
Warning
The scent in your bath salts will fade over time, so try to use them within a couple of months.