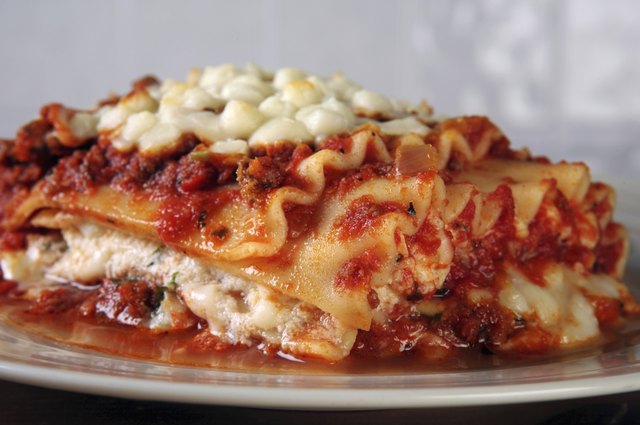 adlifemarketing/iStock/Getty Images
Start to finish: 10 minutes Servings: Varies Difficulty level: Easy
The heart and soul of most lasagnas, whether stuffed full of vegetables or filled with meat and cheeses, is the ricotta layer. Creamy ricotta mixed with Italian seasonings and eggs gives the dish its body and a lot of its flavor. There are as many ways to make the ricotta mixture as there are ways to make lasagna. Let the ricotta take a starring role in your dish without overpowering your other ingredients.
Ingredients
1 15-ounce container whole-milk ricotta cheese
1 cup frozen, chopped spinach, drained
1 cup shredded mozzarella cheese
1/4 cup grated fresh Parmesan cheese
1 large egg, beaten
1 teaspoon Italian seasoning
1 teaspoon garlic powder
Pinch dried red pepper flakes
Salt and pepper to taste
Directions
Thaw and drain the frozen spinach, pressing it with the back of a wooden spoon to remove as much water as possible. Set aside.
Crack the egg into a large mixing bowl and gently beat it with a fork or whisk. Add the ricotta, mozzarella and Parmesan cheeses and stir to combine. Stir in the Italian seasoning, garlic powder and red pepper flakes.
Add the spinach, salt and pepper, making sure to break up any large clumps of spinach with a fork. Use the mixture immediately or store the mixture in a tightly sealed container in the refrigerator for up to three days.
Variations
Replace the frozen spinach with fresh spinach by cleaning, stemming and chopping 4 to 6 cups of fresh baby spinach leaves. Wilt them in a skillet over medium heat with 1 teaspoon of butter, then let them cool to room temperature.

Leave out the spinach, if you prefer.

Drain the ricotta in a fine mesh strainer or sieve lined with cheesecloth in the refrigerator overnight for a more dense filling.

Add 1 cup of fine-curd cottage cheese to make a creamier filling.

Replace the Italian seasoning with 1 to 2 tablespoon of finely chopped fresh basil, Italian parsley or a combination of both.
*Replace the garlic powder with one sauteed or roasted minced garlic clove.
Warnings
Dried herbs and fresh herbs vary in potency. Use just 1 teaspoon of dried herbs when several tablespoons of fresh herbs are called for.

If storing your ricotta mixture, make sure your refrigerator is set at or below 41 degrees Fahrenheit to prevent spoilage and growth of pathogens, recommends the Ohio State University.

The ricotta mixture may separate in the refrigerator, so you may need to stir it lightly.

Your spices and herbs may take on stronger flavors the longer they sit.