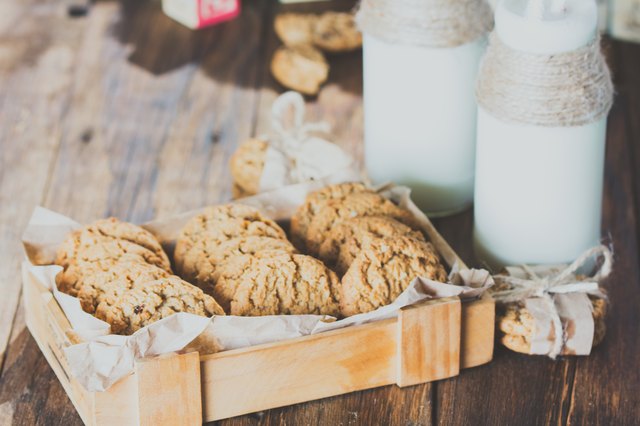 Oatmeal cookies have a signature taste and texture, thanks to brown sugar and nutmeg. In a pinch, granulated white sugar can replace brown sugar cup for cup, and cinnamon can replace nutmeg or allspice at twice the amount (1 teaspoon cinnamon for 1/2 teaspoon nutmeg or allspice).
Preheat oven to 350 degrees Fahrenheit.
Line baking sheets with parchment paper.
In a medium bowl, whisk together flour, baking powder, cinnamon, allspice and salt; set aside.
In a large bowl, with a wooden spoon or mixer, beat butter, sugar and molasses until smooth.
Add eggs and vanilla to the butter mixture and beat with a wooden spoon or mixer until well-blended.
Add flour mixture and rolled oats and stir with a wooden spoon until incorporated.
Stir in raisins if using.
Drop tablespoon-sized pieces of dough onto parchment-lined baking sheets, spacing the dough about 3 inches apart.
Bake one sheet at a time for 15 to 20 minutes or until cookies are evenly (but lightly) brown and firm on top when lightly touched.
Let cookies cool on baking sheet for 5 minutes before moving them to a wire rack to cool completely.
Store cookies up to three days in an airtight container.