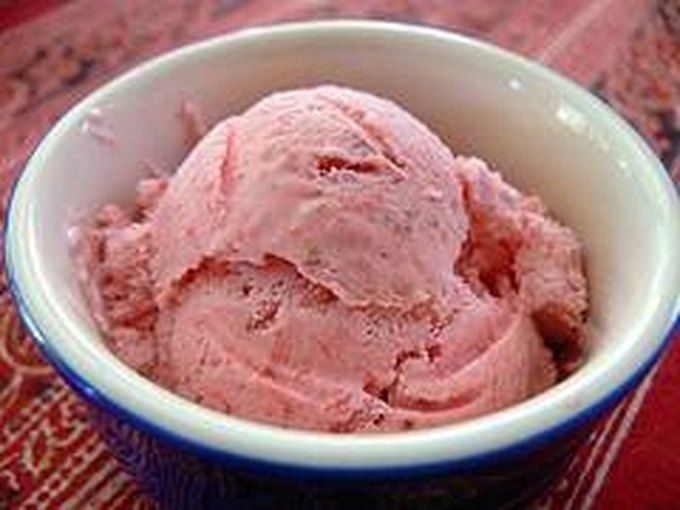 Homemade ice cream is a part of many a family backyard BBQ. Making homemade ice cream is a time-consuming process, but the final result is worth the time. When making ice cream at home, you can use whatever flavors are available: fresh fruit, nuts, cookies or simple creamy vanilla. With the aid of an electric ice cream freezer, you can combine ingredients, freeze them and indulge in the ice cream all in a few hours.
Cook ingredients. In a saucepan over medium heat, combine flour, salt, sugar, eggs and milk. Cook for 10 to 15 minutes or until the sugar is completely dissolved. Chill for an hour.
Combine additional ingredients. After removing the chilled liquid from the refrigerator, add vanilla or almond extract, cream and any additional ingredients you wish to add.
Pour the mixture into the ice cream freezer bin and insert the ice cream dasher. Cover it with the lid.
Secure the ice cream bin into its proper position in the bucket. The bin should lock into place.
Using your hands, surround the bin with alternating layers of ice and rock salt. Layers should be stacked to the lid of the bin.
Secure the motor. The end of the dasher should be inserted into the center of the motor. Position the motor in its proper place on top of the bucket and lock it into place.
Plug in the motor and allow it to churn the ice cream for at least 45 minutes. When the motor begins to strain, the ice cream is thickened.
Remove the motor and dasher. Replace the lid and allow the ice cream to set for an hour or until it has solidified. The rock salt and ice will work to freeze the ice cream quickly.
Tip
Divide un-used portion into freezer safe containers.