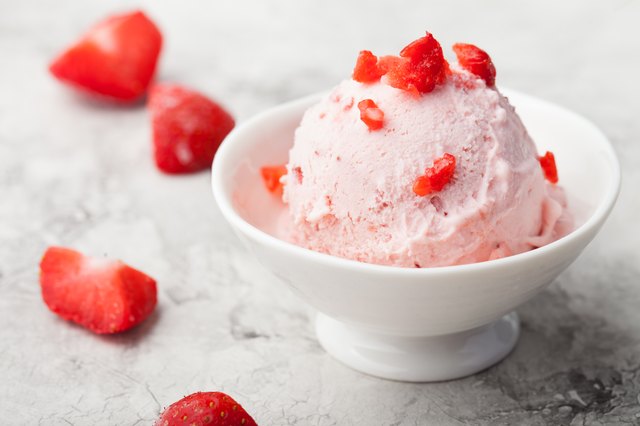 You're getting that mega craving for ice cream. No need to drive to the store or wait in line at a Baskin-Robbins. In less than a minute you can make your own homemade ice cream using your blender. No other equipment is required. Experiment with different flavors and serve it as a unique dessert to your guests at your next home party. Tell them you made it by blending a few ingredients in a blender and they'll think you're a kitchen magician!
If you're using fresh fruit, freeze overnight. Freeze whipping cream, cream of coconut or tofu ahead of time, preferably overnight.
For one or two servings, place into a blender: 1 cup frozen fresh fruit or 1 package frozen fruit or flavoring of your choice, chocolate syrup or vanilla bean (split lengthwise with a paring knife, remove seeds from the inside of the bean and add to the blender, discard pod) 1 cup heavy whipping or coconut cream or tofu, frozen Superfine sugar (start with 1/4 cup and add more, if desired, to taste).
1 1/2 tsp. pure vanilla extract
Blend at high speed just until smooth and creamy. Pour into a freezer container and freeze for up to 2 hours or until texture is firmer. After about an hour, if you wish, you can stir in your favorite nuts, candy, sweetened coconut, mini chocolate chips or other ingredients, or 1 tbsp. of your favorite liqueur then freeze for about another hour or a little longer. Scoop it out and enjoy!
Tips
This dessert is best when made and eaten on the same day. Freezing leftovers overnight results in the solids sinking to the bottom.

Organic ingredients are recommended.

Use pure vanilla extract. It's far better than imitation vanilla extract and has no "off" taste. Use bourbon vanilla beans from Madagascar. They can be found at your local health food or spice store or online. If you're making plain vanilla ice cream, use both beans and extract.

Freezing fruit and cream ahead of time results in a more even textured ice cream.

If using chocolate syrup or other flavoring, add according to your taste and adjust when necessary.