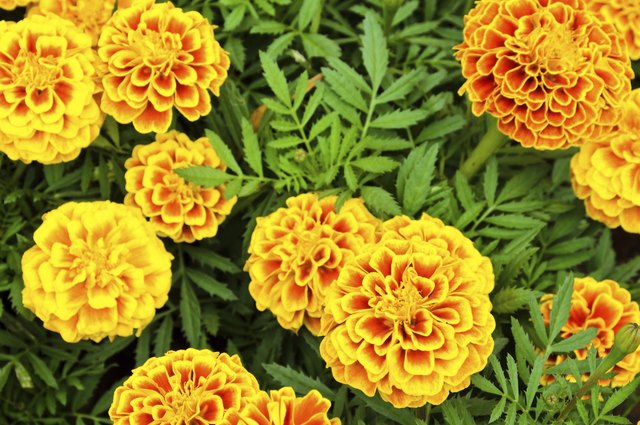 boonsom/iStock/Getty Images
The petals of the Calendula officinalis plant -- commonly known as marigold -- pack plenty of skin-friendly benefits, including antibacterial and antioxidant properties. Calendula creams often are promoted as anti-inflammatory remedies, helping reduce redness, sunburn and other non-chronic forms of inflammation. While you can nab calendula-infused salves off the shelf, making your own is a more all-natural, eco-friendly and wallet-lightening way to improve your skin.
Make the Oil
Allow the freshly picked flowers of a marigold plant to air-dry for about 12 hours. Drying the petals helps prevent rancid oil.
Place the wilted flowers in a clean, dry jar. Fill the jar with pure, natural olive oil so that they are completely submerged, then give the combination a gentle stir. Seal the jar tightly with a lid and store it on a well-lit windowsill for four to six weeks, shaking it at least once per day.
Pour the mixture through a clean cheesecloth into another clean, dry jar, straining out the plant parts. Store the calendula oil in glass bottles or lidded jars in a cool, dark place.
Concoct the Cream
Shave, thinly slice, chop or grate beeswax. Add about two parts beeswax, two parts coconut oil and five parts calendula oil to a double boiler. Heat the mixture in the pan on low heat, stirring gently until it's fully blended.
Fill a blender with a bit of distilled water -- about equal to the amount of coconut oil you used -- and turn it on at a low setting. As the water spins, slowly pour in the oil and wax mixture. Put the cap on the blender and mix until the ingredients take on a creamy, smooth texture.
Transfer the still-warm cream into a clean, dry jar, allowing it to cool completely before you seal it. Add a few drops of the essential oil of your choice, such as lavender, if you wish to give the cream a pleasant scent.
Tip
Keep the homemade calendula cream in a cool, dark place for as long as six months. Give it a quick stir before using it, because the oils may separate from the other ingredients.
If you're in a rush, make calendula oil by simmering the marigold flowers in olive oil on the stovetop for about three to five hours, then straining and storing it in jars.
Substitute cocoa butter or lanolin for the coconut oil, if you prefer.