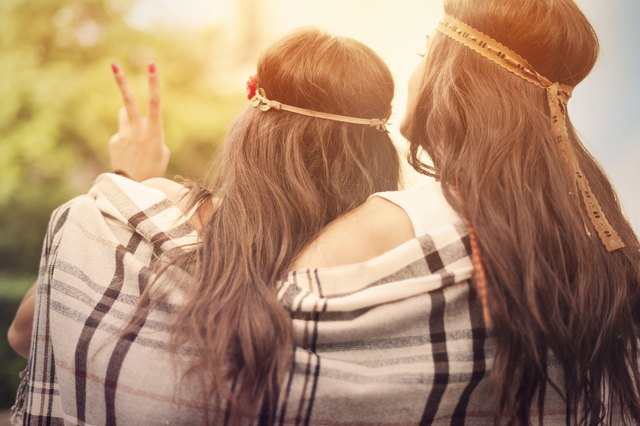 Recreating the era of "Hair" with authentic-looking clothing is easily accomplished, mostly with ordinary items of clothing you already have around the house. Asking friends or relatives to rummage through their closet is another way to come up with the basics for a hippie wardrobe. You can start with 21st-century clothing and various accessory items, and, with a little creativity, come up with a look that is right out of the Age of Aquarius.
How to Make Hippie Clothes at Home
Create a variety of vests, a mainstay of the hippie wardrobe. Take any ordinary vest and transform it by either using fabric paint to cover the entire front of the vest with painted flowers or cut up worn clothing into squares and sew them onto the vest front in a crazy quilt pattern. You can also create vests by cutting the sleeves and collar off of any button-front shirt; remove the buttons and edge the collar, sleeve holes, and front edges of the shirt with any kind of trim or braid.
Make bell-bottom pants by slitting open a side seam at the bottom of a pair of pants, halfway between the ankle and the knee, and sewing in a colorful triangle-shaped piece of fabric. Coordinating the fabric of the pants with the cloth or trim used for the vest will create a matching outfit.
Use any skirt as the basis for a striped hippie outfit. Simply sew on long strips of cloth in a variety of colors and patterns to the waistband of the skirt. Overlap slightly. The strips will swing slightly when you move. Make sure the strips are long enough to reach the floor. You can also use a strip around your waist, tying it on the side.
Tie-dye any cotton item of clothing you own: shirts, blouses, skirts, pants, ties, vests and others. It's a simple process that lets anyone achieve authentic-looking results. See Resources below for instructions.
Come up with unique ideas for headbands using a variety of materials. You might want to start with a printed fabric and simply fold it until it's the right width; then iron it with spray starch so it will hold its shape, and tie it on. Fringes, ribbons and trims also make unique headbands. For the ultimate hippie headband, simply stitch small fabric flowers onto a length of ribbon.
Take all of the bead jewelry you can find and unstring the beads. Toss them all in a box and then restring onto long lengths of elastic thread in a profusion of colors and styles. Make at least three or four extremely long necklaces to wear with your outfits.
Tips
For inspiration, take a trip to the library to look through books and old magazines for photos of hippies.
Resources