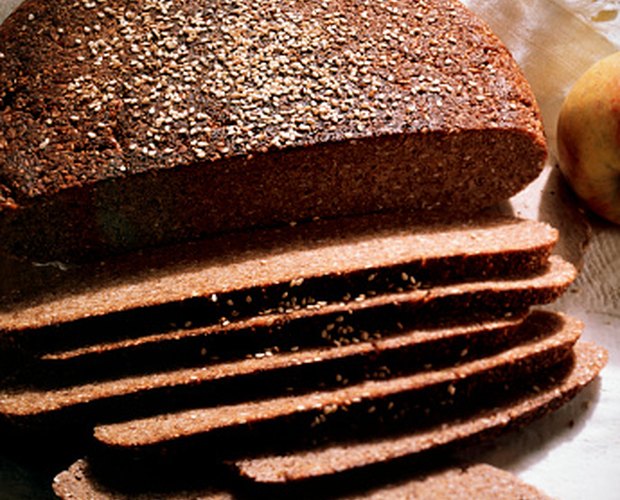 Eising/Photodisc/Getty Images
German black bread was a staple during WWI and WWII. Its extensive nutrition value and long shelf life, as well as its inexpensive cost, made it the perfect food for the army to provide its soldiers. Also known as pumpernickel, the bread is still enjoyed in the country and around the world. Creating your own authentic German black bread is simple and only requires the right ingredients, tools and time.
Grease the inside of a pullman pan with the vegetable oil, smearing it with a wax paper square.
Combine the bread yeast, white sugar, all-purpose flour, medium rye flour, whole wheat flour, bran flakes, salt, instant coffee powder, unsweetened chocolate, caraway seed and powdered onion in the large bowl.
Mix the water, molasses and cider vinegar in a small bowl.
Pour the contents of the small bowl into the big bowl. Combine them until they are thoroughly mixed and create a large ball.
Place the dough on a floured surface and knead it for 8 to 10 minutes, until it is elastic in nature. Shape it in to a ball.
Insert the dough back in the bowl and cover it with the damp towel. Place it in a warm area, covered, for 30 minutes or until it has doubled in size.
Preheat the oven to 225 degrees Fahrenheit.
Press the dough in the bread pan evenly. Close the lid.
Place the bread in the oven. Cook for 3 1/2 hours, or until a bamboo skewer inserted in the middle comes out clean.
Turn off the oven and let the bread sit inside it, closed, for 2 to 3 more hours.
Remove the bread from the oven and allow it to cool completely before removing.
Tip
If you do not have a pullman pan, use a regular bread pan and cover it with two layers of tinfoil before baking to ensure it does not become too brown.