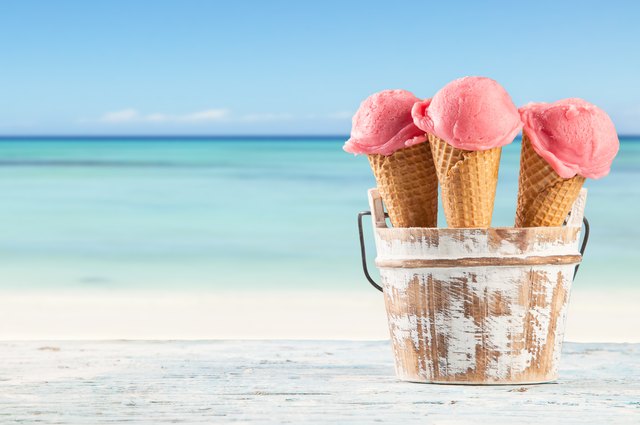 Look through your specialty food department at your local grocery store. There you are likely to find freeze-dried ice cream. Neapolitan seems to be the most popular flavor for this tasty dessert. The process of freeze-drying foods makes the food airtight, moisture-free and lightweight. Initially, freeze-dried ice cream and other foods were created and packaged to be eaten by the astronauts. The freeze-dried food tasted so delicious, it became popular for non-astronauts, too!
Make ice cream according to your favorite recipe. Another option is to purchase ice cream already made. You can combine different flavors in your package of freeze-dried ice cream.
Scoop out a serving of the ice cream. Put it on a piece of plastic wrap. Place the scoop back in a regular freezer to make certain the ice cream is extremely hard.
Remove the hard serving of ice cream from the freezer. Take off the plastic wrap. Place the ice cream in the foil pouch. Put the foil pouch in the vacuum dehydration sealer machine according to the manufacturer's instructions. Completely dehydrate the serving of ice cream.
Place the foil pouch in a freezer that will reach -40C. Allow the ice cream to remain in this freezer overnight.
Tips
Freeze-dried ice cream has a shelf life of around 2 years.

Freeze-dried ice cream needs no refrigeration. It will not melt!
References