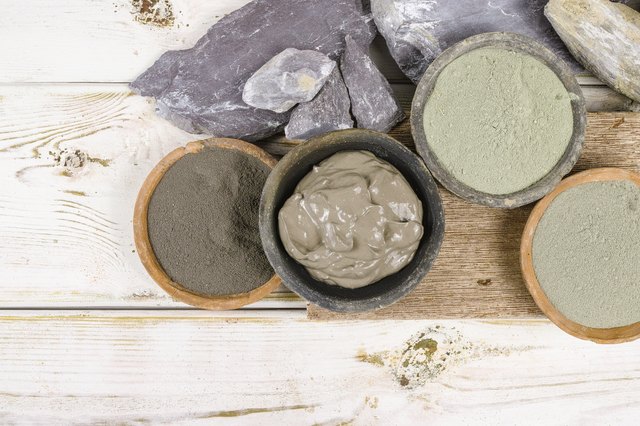 Whether your skin feels oily, dry, normal or a combination somewhere in between, look no further than your kitchen to create simple, three-ingredient face masks to achieve a natural, healthy glow. These masks are effortless to make and can be customized easily to fit your specific needs, so feel free to mix it up and make the recipes your own.
Tips
Thoroughly clean your hands and face before mixing and applying your mask.

Apply the mask from your hairline all the way down to your neck for best results.

Avoid the delicate area around your eyes.
These masks can be a bit messy to apply, so do it over the sink to minimize cleanup.
If your skin feels greasy or vulnerable to breakouts, then it's important to make a face mask that targets those shiny problem areas, without drying out the rest of your complexion. This three-ingredient recipe uses a combination of egg whites, yogurt and lemon juice to cleanse, tighten, and target break-outs.
Egg whites help increase circulation to brighten and tighten skin temporarily. The increased blood flow will help give your complexion that healthy glow.

Lemon is typically used to treat oily skin because it's a natural astringent, helping to dry out excess oil. It's also helpful for getting rid of dead skin cells that build up on the surface of your face. These flaky, dead cells can clog pores and lead to dryness or acne.

The final ingredient, yogurt, is the perfect balance for this mask to keep your skin from getting too dry. In addition to its hydrating qualities, yogurt also contains lactic acid, which helps plump and soften skin. Yogurt also benefits the skin with its anti-fungal properties, making it a great addition to treat any acne concerns.

Simply add ingredients together in a large mixing bowl, and whisk with a spoon to achieve a fluffy texture. Apply with your fingers in a circular motion and leave on for 5 to 10 minutes. Wash off thoroughly with warm water and pat dry with a towel.
Tips
If your skin feels more like a combination between oily and normal, try using the entire egg. The yolk is protein- and nutrient-rich, which adds an additional moisturizing component to the recipe.

Before you apply the mask, treat any pimples or blemishes with lemon juice by taking a cotton swab and dabbing the affected areas. This will help effectively dry out the spots and fight off bacteria.

Sometimes your skin just needs a little TLC. This mask offers intense moisture and nourishment to help heal irritated, tight or sensitive skin. This recipe, featuring bananas, sugar, and honey, is so edible and fresh that you can polish off any leftovers with a spoon.
Not only are they extremely moisturizing, bananas also contain zinc, iron and potassium, which help promote elasticity in the skin.

Even the driest, most sensitive skin needs a healthy exfoliation every few weeks. Sugar is extremely effective for scrubbing away dry, flaky skin. It's a humectant too, which means it's naturally hydrating and gentler on skin than a traditional salt scrub.

Like sugar, honey is also a humectant and well-known for its nourishing properties. It is rich in antioxidants, has antibacterial agents and is even a natural antiseptic.

Mash one, ripe, peeled banana in a bowl until it's free of any lumps. Add sugar and honey, and mix thoroughly to create a thick paste. Apply the mask with your fingers in a circular motion to ensure exfoliation. Leave on for 10 to 15 minutes, and then wash off with warm water.
Tips
If your skin is extremely sensitive, try using brown sugar as a more gentle alternative to traditional raw sugar.

If your skin feels flaky or ashy, use coarse raw sugar instead of traditional sugar for a more intense exfoliation.

If you aren't concerned about being too dry or too oily, try a mask that delivers the best of both worlds to keep your skin feeling fresh. Avocado, honey and lemon are ancient cures that help protect the skin.
Avocados contain fatty amino acids that help moisturize and promote skin cell regeneration when applied directly to the skin. On top of that, avocados are enriched with antioxidant vitamins A and E, which may help combat free-radical cell damage.
In addition to being extremely moisturizing, honey is also a natural antiseptic, which means it can fight bacterias that lead to breakouts.

While lemon is great for preventing acne, it's also packed with antioxidants that energize the skin and boost circulation, helping to eliminate future wrinkles.

Pit and peel the avocado. Place in a bowl and mash with a spoon until it reaches a creamy consistency. Blend in the honey and lemon. Leave the mask on for 10 to 15 minutes, and then wash off with warm water.
Tips
To customize this mask for your skin type, add an extra teaspoon of honey if your skin is feeling dry. If you are more oily-prone, add an extra teaspoon of lemon juice instead.