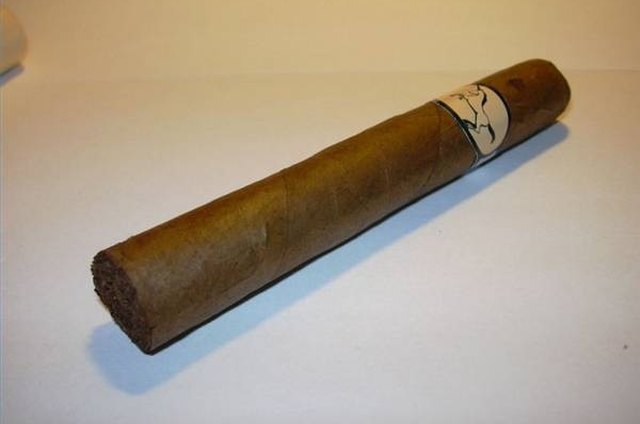 0r14nd0/Wikimedia Commons
Candy cigars are a traditional way to celebrate an important event with friends and family. These chocolate treats not only show pride in the birth of a child, a promotion or a graduation, they are also delicious. While chocolate cigars can be custom ordered, they are quite expensive. You can save money by quickly and easily making them at home. They are so easy that even the kids can help.
Knead fondant according to the package directions. As you knead the fondant, add cocoa powder 1 or 2 tbsp. at a time until the fondant is light brown in color.
Pinch off a small ball of chocolate fondant. It should be slightly smaller than a golf ball. You may need to experiment with different amounts until you find an amount that gets the cigar to your desired size. Continue making balls until you have the number of cigars you would like.
Lay a sheet of wax paper over your work surface. Roll the ball under your hands as if you were creating a snake. Stop when the snake is approximately 1/2 inch in diameter. Push in the ends if they are pointed, and shape the roll into a cigar shape by rounding the ends.
Cut the paper into 3/4-inch-long strips, approximately 1/2 inch in width. Place a dab of glue on one end of the strip. Wrap the strip around the cigar about 3/4 inch from the bottom. Overlap one end of the strip with the glued end, and press down to seal. If your paper is white on one side, this will be the underside as you wrap it around the cigar.
Place the cigars on the sheet tray as you finish. Allow them to sit out approximately 2 hours to harden up a bit. Place the cigars in the candy wrappers. Fold the open end over, and seal with the glue stick or a piece of clear tape.
Tip
Design an emblem on the computer for your strips and print it out. Choose a paper color to match the theme. Place a sticker over the paper strip to create an emblem.
Warning
Cover any leftover fondant in plastic wrap, and store in a resealable container.