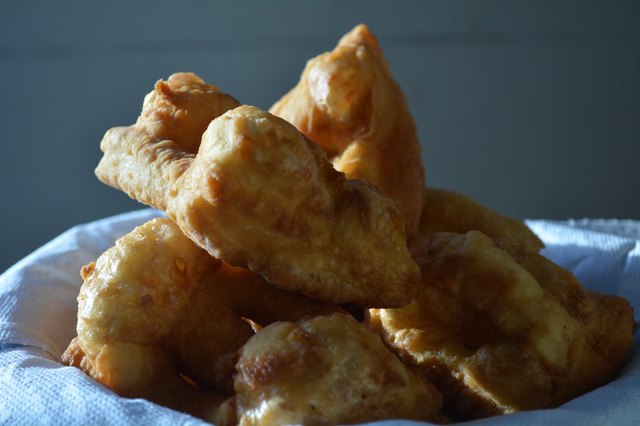 Banic bread is a Native American bread made with household staple ingredients. The bread is crisp and chewy and can be served warm or cold. It makes an excellent accompaniment for any dinner, or it can serve as a wrap bread for sandwiches. Banic bread is also known as Indian fry bread, and it's so simple to make it that you can make it fresh with any meal without much extra effort.
Mix all of the dry ingredients together in one of the mixing bowls. Mix well, scraping the bottom and edges of the bowl to ensure that all of the ingredients are combined. This will prevent some of the pieces of bread being saltier than others.
Melt the lard or vegetable shortening. You can do this in a bowl in the microwave or in a pan on the stove, on medium heat.
Allow the lard or vegetable shortening to cool slightly.
Form a dip or "well" in the dry ingredients.
Pour the melted lard or vegetable shortening into the well that you created in the dry ingredients.
Mix the dry ingredients and lard together.
Add about 3/4 of the water into the mixture. Blend until the mixture holds together well. The mixture should have the consistency of a thick bread dough, and it should not be sticky. If the mixture is too thick or is not holding together well, add more water. If the dough is too sticky, add more flour. Mix the dough as little as possible, to create a light, airy bread.
Preheat the frying pan, and add a tablespoon of lard or vegetable shortening. Canola or olive oil can be substituted.
Pull off some of the dough and form a flat, thick disc with it. It should look like a thick tortilla. Place in the frying pan, and fry for approximately five minutes or until browned. Flip and cook on the other side.
Repeat Step 9 until you have used all of your dough.