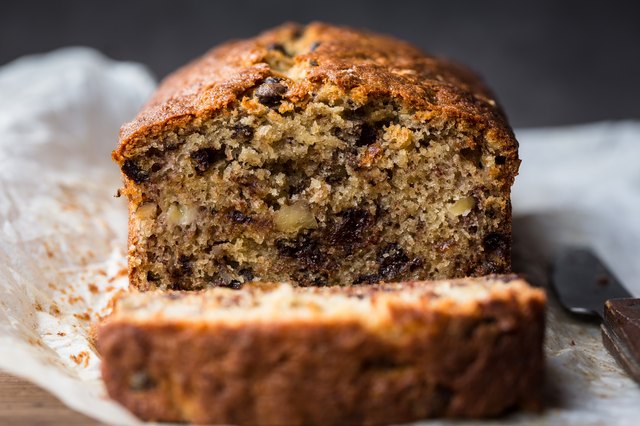 If you make regular loaves of bread in your bread machine, you don't have to stop there. Many bread machines also have settings for quick breads like banana bread. If they don't, you can still bake banana bread in your bread machine just by using the standard bake cycle. This recipe is easy to adapt to other flavors of quick bread, such as zucchini, pumpkin or apple spice, just by substituting the bananas for the 3/4 cup of the desired ingredients.
Whisk together the flour, baking powder, baking soda and salt in a large bowl until completely combined.
Whisk together the oil, eggs, sugar and bananas.
Mix the flour and banana mixtures together.
Grease the inside of the bread machine pan with nonstick spray and pour your ingredients in.
Set the bread machine to its quick bread cycle and run it through. If your machine doesn't have a quick bread cycle, bake the bread using the regular bake setting for about 55 minutes.
Use a toothpick or cake tester to check if the bread is done. Bake the bread until a toothpick inserted into the middle of the bread comes out clean.
Remove the pan and cool the bread, still in the pan, on a rack for 10 minutes. After 10 minutes, turn the bread out of the pan and cool directly on the rack. Serve once it's cool.
Tip
Add 1/2 cup of chocolate chips or chopped nuts before baking.
If your bread machine has a reliable mixing feature, you can let the machine mix all of the ingredients. You may still want to whisk the flour, leavening and salt together, though, to ensure that the flour, baking powder, baking soda and salt will be evenly distributed throughout the batter.