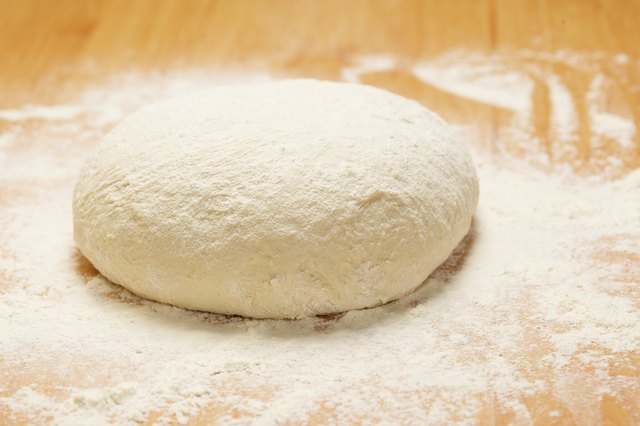 Jupiterimages/Photos.com/Getty Images
Amish Friendship Bread is a sourdough starter you can share with friends. The starter typically goes through a 10-day process that produces five parts of 1 cup each to share and bake. You can use the starter for a number of different bread recipes, but Amish Cinnamon bread is among the most popular.
Make the Starter
Dissolve active dry yeast with 1/4 cup of warm water for about 10 minutes. Stir with a wooden spoon, not metal. Combine the 1 cup of flour and 1 cup of sugar in a bowl not made of metal. Slowly add the 1 cup of warm milk and the dissolved yeast. Cover loosely and let stand. Mixture will become bubbly. This is considered Day 1 of the recipe.
Pour the batter into a gallon zip lock bag for convenience on Day 2. Mash the batter in the bag.
Continue to mash the bag once a day on Days 3-5. If air pressure fills the bag, let it out.
Add 1 cup of flour, 1 cup of sugar, and 1 cup of milk on Day 6. Mash the bag.
Mash the bag daily on Days 7-9.
Pour the entire contents of the bag into a non-metal bowl on Day 10. Use wooden or plastic spoons. Add 1.5 cups flour, 1.5 cups sugar, and 1.5 cups milk.
Make Sweet Bread
Measure out five separate batters of 1 cup each into 1 gallon plastic bags. Date the bags. This is Day 1 of the starter. Put one bag aside for yourself. Give 3 bags away to friends with a copy of the recipe. They will leave the starter alone for Day 1. You made the starter on the first Day 1, but now the cycle has begun again. Use the final cup of batter for your first loaf of bread.
To the remaining batter, add the following and mix thoroughly with wooden or plastic spoons: 3 eggs, 1 cup of oil, 1/2 cup of milk, 1 cup sugar, 2 tsp. cinnamon, 1/2 tsp. vanilla extract, 1.5 tsp. baking powder, 1/2 tsp. baking soda, 1/2 tsp. salt, 2 cups flour, 1 box instant vanilla pudding mix.
Grease two large loaf pans. In a separate bowl, mix 1/2 cup of sugar and 1.5 tsp. cinnamon. Dust the greased pans with half the mixture. Pour the batter evenly into the two pans and sprinkle the remaining sugar mixture on top.
Bake for one hour at 325 degrees or until cooked through. Cool until bread loosens from pan.
Tip
Do not use metal bowls or spoons for mixing. Do not refrigerate It's normal for batter to rise or bubble. If air fills the bag, let it out. Remaining batter can be frozen. Sourdough starter can be used for other recipes.