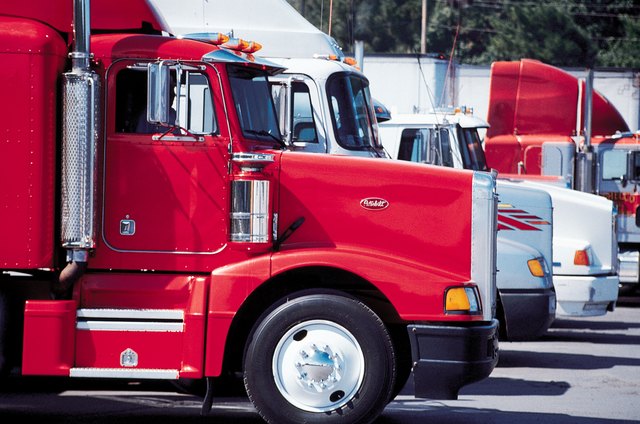 Comstock/Comstock/Getty Images
Themed birthday parties are fun to throw at any age. Many children love playing with toy semi-trucks and adult truck drivers often love their vehicles. Complete your truck-themed decorations with a homemade birthday cake shaped like a semi-truck. Shaped birthday cakes combine baking skills with sculpture. This will make any truck enthusiast smile while he or she blows out the birthday candles. But be careful, your semi-truck cake may turn out so impressive, no one will want to ruin it by eating it.
Mix together the cake batter according to the directions on the box. Pour one batch into a 3-inch deep rectangular pan and another into a 2-inch deep square pan. Bake the cakes according to the directions, remove from the oven and let cool.
Cut a 2-by-4-inch rectangle out of the 2-inch deep cake. Find the center of the rectangle the long way and cut 1 inch down. Turn the knife and cut off the top of half of the cake at a 90 degree angle. This is the front of the truck. Stick this piece to the end of the 3-inch deep cake with a thin layer of icing.
Place a container of pre-dyed fondant into a double boiler and melt it until it is almost liquid. Choose a bright color, such as red for the body of the truck. Pour fondant over the cake and use an icing spatula to smooth it into an even layer. Allow the fondant to cool.
Cut out five 1 1/2-inch circles out of the remaining 2-inch deep cake. Cut the circles in half so you have ten 1-inch circles. Pour black fondant over each circle and allow to cool. Add a small amount of heated fondant to the back of each circle and adhere to the sides of the cake as wheels. On each side, put one in the front, two in the middle and two in the back.
Lay out a fondant sheet in the same color you covered the truck with. Cut shapes out of it with a pairing knife and use them to further sculpt detail on the body of the truck. Fondant is pliable like modeling clay. Add caps over the front wheels and a rounded air darn on top of the cab. Roll out a sheet of gray or silver fondant and add the windshield grill, headlights and hubcaps to the tires.
Sculpt into the fondant with a veining tool to add further detail such as the lines of the grill and the screws in the hubcaps. Place the cake in the fridge for at least an hour before serving.