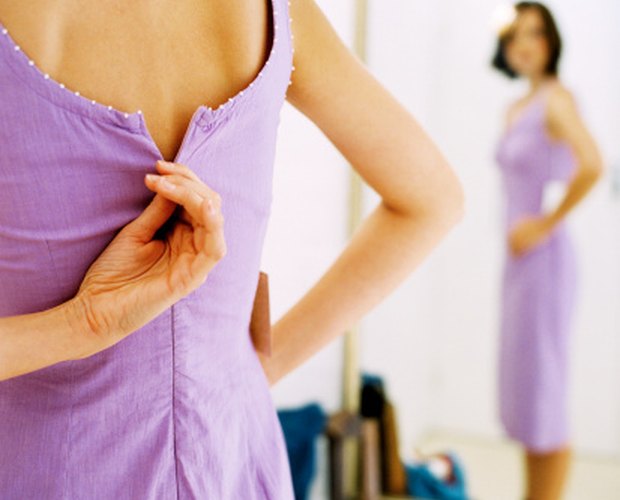 Stockbyte/Stockbyte/Getty Images
A pencil dress is a fitted garment which clings to a woman's figure. It is usually zipped at the back or side, but it can also be made with elasticated material so it pulls on over the head or hips. The pencil dress has seldom been out of fashion since it was introduced in the 1960s.
Measure yourself and write down the measurements to ensure the dress will fit your body. Measure from the back of your neck to where you would like the hem line, and add 2 inches extra for the hem. Measure your hips, waist, bust and shoulders at their widest points. Divide these numbers in half, and then add 2 inches for seams. Measure from the bust to the waist and the waist to the hips.
Place the material right side down on a flat surface and measure out your dress. Use a round plate to draw a slim neckline. Measure from the neck to the hemline. Mark this with tailor's chalk. Draw the shape of the dress using your measurements. Check the measurements each time and draw your silhouette.
Cut out the front of the dress. Fold and pin 1-inch darts to create a bust line from under the arm holes. Use the measurements again for the back of the dress, but keep the neckline higher at the back and cut down the center of the material to create two sides for the back.
Pin the dress into place, leaving the back open above the waist. Try the dress on for size. Ask a friend to help you fit the dress to your shape by adjusting the pins. Cut off any excess material.
Set in the zipper at the back of the dress from waist to neck. Sew the dress together with a loose running stitch. Try the dress on again. Once you are happy with the fit, sew a double seam along the sides, back and across the shoulders. Fold over the edges of the neckline and armholes, and sew in seam binding to create a neat finish.
Try the dress on and ask a friend to help you pin the hemline. Sew the hem with a neat top stitch.
Tip
Make your first dress with cheap material so if you make a mistake, you can start again without much invested. Unpick an old dress to get a template fitting your shape. Accessorize your pencil dress with a belt in a contrasting color. Make sure you try the dress on at each stage so it fits your body shape perfectly. If you choose a stretchy fabric and are small busted, you can make the dress without the zipper.
Warning
Double check your measurements before cutting the material. Try the dress on and refit at each stage before sewing on the machine.
Ask a good friend to help you with fitting. This will avoid stretching and distorting the dress.