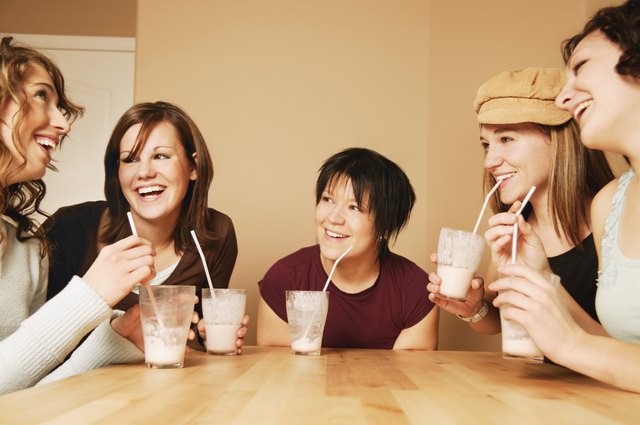 Design Pics/Design Pics/Getty Images
Start to Finish: 10 minutes Servings: 4 Difficulty: Beginner
A homemade malted milkshake conjures nostalgic feelings of a bygone era of jukeboxes and soda fountains. The addition of malted milk powder -- a product of evaporated malted barley, wheat flour and milk -- transforms a basic milkshake with its signature slightly caramelized flavor. Start with your favorite ice cream flavor, such as classic chocolate, vanilla and strawberry. Good quality ice cream translates to a good quality malted milkshake.
Ingredients
3 cups ice cream
1 cup whole milk
6 tablespoons malted milk powder
Directions
Set the ice cream out at room temperature for about 10 minutes soften slightly, making it easier to blend.
Add the ice cream to the blender. Add 1/2 cup of the whole milk to the ice cream. Blend for about 30 minutes or until smooth. Add the remaining milk a little at a time to achieve the desired consistency depending on whether you prefer thick or thin milkshakes.
Add the malted milk powder to the milkshake. Blend for about 15 seconds or until well combined.
Tips
If you are unsure of how much you like malted milk flavor, start by adding half of the powder and checking the taste. Add the remaining malted milk powder a little at a time to taste.
To make a strawberry malt milkshake, you can use strawberry ice cream, vanilla ice cream with approximately 1 cup of sliced strawberries, or add fresh strawberries to strawberry ice cream for even more fruit flavor.
Find Malted Milk Powder
Look for malted milk powder in the aisle with powdered milk, canned milk and condensed milk. If your grocer doesn't carry the powder, substitute with an equal amount of original Ovaltine malt milk, a product that contains just a few ingredients more than regular malted milk powder. Chocolate Ovaltine malt milk works well for making chocolate malt shakes, but other flavored malt shakes should use the original formula, which is simply malt flavored.