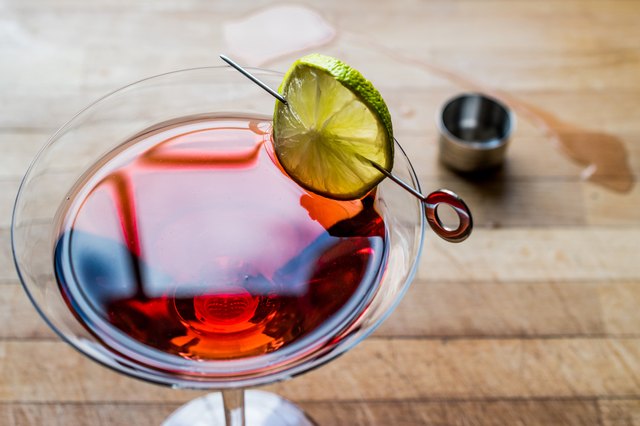 Start to Finish: 15 minutes
Servings: 2
Difficulty: Beginner
A fruit roll-up cocktail tastes like the childhood sweet treat -- a thin piece of fruit leather, often berry flavored. Similar in style to a cosmopolitan, the fruit roll-up cocktail is a little tart, a lot fruity and with a hidden alcoholic punch. There are numerous variations of the recipe, but the basic requirement is that it be sweet and tangy, just like a real fruit roll-up treat.
1 ounce vodka

1/2 ounce peach schnapps

1/2 ounce Chambord or other berry-flavored liquor

1/2 ounce orange liquor, such as triple sec or Cointreau

2 ounces cranberry juice

2 ounces apple juice

1/2 ounce lemon juice

1 tablespoon white sugar

One orange

Ice

Water
Fill two martini glasses with ice and water, and let the glasses rest.
Using a vegetable peeler, peel two strips of orange rind from the orange.
Tips
When peeling, do not push down too hard; otherwise, you will take off too much pith -- the white inside of the peel, which has a bitter taste.
Add all of the alcohol, juices and sugar to a cocktail shaker. Fill the shaker halfway with ice.
Cap the shaker and shake until the outside of the shaker is very cold to touch.
Toss out the ice and water from the martini glasses. Using a strainer, pour the cocktail into the chilled glasses to prevent pieces of ice from falling into the glasses.
Hold one piece of orange rind just about the drink, and twist quickly, spraying the oils from the rind onto the top of the drink. Drop the twist into the glass and repeat for the second drink. Serve the drinks immediately
To make a blue fruit roll-up cocktail, substitute Blue Curaçao liquor for the Chambord, and replace the cranberry juice with apple juice so the blue shows through.
If the lemon juice makes your drink too tart, replace the lemon juice with pineapple juice.