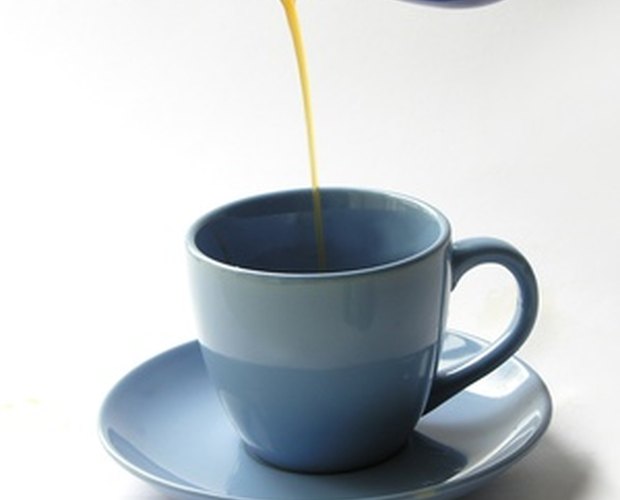 blue cup and tea from a blue tea-pot image by Maria Brzostowska from <a href='http://www.fotolia.com'>Fotolia.com</a>
Not only is tea a tasty drink, but it has many health benefits besides, making it an excellent beverage for kids. Children often like sweet, fruity-flavored teas, so this is a good choice if you're making your youngster a cup to sip for pure enjoyment. Some specific types of tea are believed to help relieve worry, colic, or flu symptoms. Stay away from caffeinated teas such as chai, black or English breakfast.
Fill a kettle with water and heat it until almost boiling. You can do this with a stove or microwave, or use an electric kettle.
Put a teaspoon of tea leaves into your teapot for every cup of water you plan on adding. You can use a teabag instead, but loose leaves give you a much better tea.
Remove the kettle from your heat source just before it reaches a boil, and pour the water into the teapot. Let the tea steep for only two to four minutes. Kids tend to prefer a weaker tea, so this will prevent it from becoming too strong.
Strain the leaves out of the tea and pour into a teacup. Non-breakable cups are safest for young children.
Allow the tea to cool before serving. Most kids don't like hot tea, so you should allow it to cool to at least 90 degrees F. You can serve the tea chilled, as well.
Tip
See Reference for a list of specific teas that are thought to be helpful for childhood ailments such as colic or fever.
References