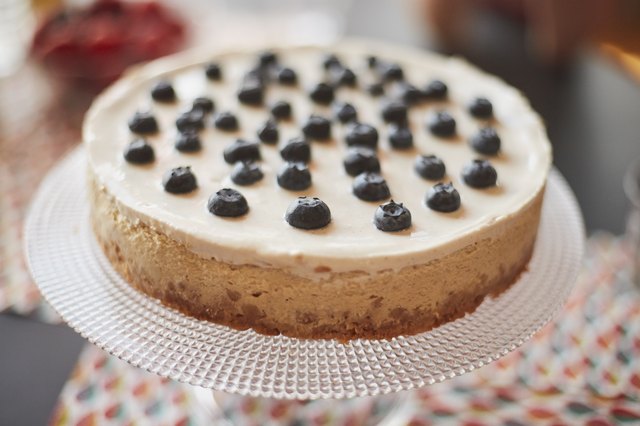 There's nothing like a homemade cake, but when you don't have time to bake or can't afford to spend the entire evening baking, a box cake is the next best thing – and with a swap here and there, no one will tell the difference.
There are many tricks for improving boxed cake mixes, such as adding fresh fruit, nuts or spices. Making your own frosting is also a great way to personalize it. You can opt for a traditional cream cheese frosting or you could try mixing coconut oil, chocolate, vanilla extract, regular milk (almond milk works fine, too) and a pinch of salt to make a healthier version that everyone will love.
The best part about doctoring a box cake is that you don't need to worry about the basics; the cake will rise as long as you don't over beat the batter and the oven temperature is correct. In short, as long as you experiment within reason, your cake will get compliments.
Substitute Wet Ingredients
Instead of including oil in the mix, use pumpkin puree or apple sauce – prepare your own and avoid all the extra sugar that most commercial brands contain. Besides cutting calories (a 1/4 cup of oil adds about 500 calories), this switch will give the cake a lovely consistency. Replace one cup of oil for one of pumpkin puree or apple sauce. If you are using a spice cake mix, the pumpkin will give it a delicious homemade taste – and an extra dose of fiber.
Use soy or unsweetened almond milk instead of regular cow's milk to give your cake a healthy twist and a delicious flavor. Feeling a bit adventurous? Try oat milk. Its sweet flavor pairs well with baked goods, and every cup has about 5 grams of protein. Avoid rice, hemp and coconut milk because they may alter the flavor and consistency of the cake.
Experiment With Ingredients
Most cake mix manufacturers acknowledge that people will alter the list of ingredients to personalize the cake and give it a homemade feel. Indulge and include your favorite ingredients; for example, add unsweetened chocolate chips or a teaspoon of antioxidant-rich cinnamon. Use fresh-chopped fruit to take white or yellow cakes to the next level. Cut fresh strawberries, which are rich in vitamin C, and add them to a strawberry or vanilla mix. Spice up a chocolate cake with a teaspoon of instant coffee, or simply include pecans or macadamias. Just remember that all new ingredients elevate the cake's nutritional value and flavor.
Layer Up
Layer cakes scream homemade, so why not make one? Cut the cake into even layers and include fresh fruit, lemon curd, preserves or stabilized whipped cream. Blend one cup of almonds or cashews with one cup of water (add more nuts if the mixture is not as thick as you like) and use it instead of whipped cream to cut down calories and get a dose of healthy fats. Cover the cake and sprinkle with caster sugar. Not a fan of sugar? Use your favorite artificial sweetener instead, just slightly grind it in a food processor or blender.
Tailor to Your Need
If you can't use eggs, experiment and substitute with mashed bananas (replace 1 egg with 1/2 banana). Add omega-3 fatty acids and cut down calories by using avocado instead of butter, replacing one cup of butter with one cup of avo. You can also replace half the butter with Greek yogurt to cut calories and increase the cake's protein content. Experiment and add vegetables to increase the cake's nutritional value – for example, grate a large carrot and add it to a carrot cake mix.
There's one more secret: If you want to indulge and don't mind a few extra calories every now and then, the easiest way to make a box cake taste like homemade is by swapping butter for the oil and adding one egg. We promise you won't regret it.